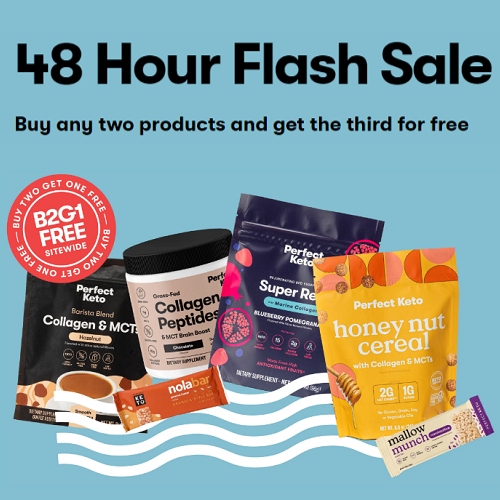 Summer is coming to a close, and that means shorter days, cooler weather (hopefully), and all those back-to-school activities.
We all need different things as we transition from summer to fall and Perfect Keto's End of Summer B2G1 Flash Sale is perfectly timed! Build your own bundle of 3 products and score one of them for Free! Mix/match is ok. The lowest priced item in your order will be Free.
🍫 Need quick-and-easy snacks? Try stacking your bundle with Nola Bars, Keto Bars, and Mallow Munch Bars. These clean, delicious options are perfect for the kids' lunchboxes or your next carpool line snack attack.
💪 Need some ketosis support? Build your bundle with ketosis-supporting products like SuperFat Keto Nut Butter Singles, MCT Powder, and Exogenous Ketone Base.
😷 Need to boost your immune system? The start of the school year means more germs. Support your immune system with Daily Electrolytes and Super Reds Antioxidant Blend, then throw in your favorite Keto Collagen as a treat.
This flash sale is valid Monday and Tuesday only! All products qualify and there's no coupon required. Orders over $75 ship Free + orders over $115 will score a Free surprise gift (while supplies last). All products are backed by a 30-day money-back guarantee.
Perfect Keto products are made with real food ingredients to promote better health. They contain no gluten, grains, soy, corn, added sugar, artificial flavors/colors, fillers or chemicals.
1