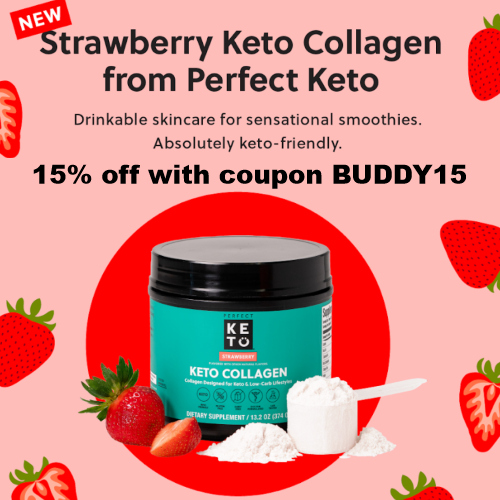 Your body naturally decreases it's collagen production as you age, so replenishing it is super important.
Collagen is a key player in healthy:
👏 Skin
💪 Muscles
💁‍♀️ Hair
💅 Nails
🦴 Joints and bones
🏋️ Ligaments and tendons
Simply add one scoop of Perfect Keto's newest Strawberry flavor collagen to cold water and you'll swear you're drinking strawberry milk! But with no added sugar and a whopping 10g of grass-fed collagen, this treat is entirely keto-friendly. Added bonus – Perfect Keto added coconut cream powder to their Strawberry Collagen for extra creaminess. And because they use ultra-fine powder, you'll get a creamy, dreamy, clump-free sip every time.
Get 15% off Perfect Keto's New Strawberry Keto Collagen (or anything else they sell, excluding bundles) using coupon BUDDY15. Orders over $29 ship Free.
9