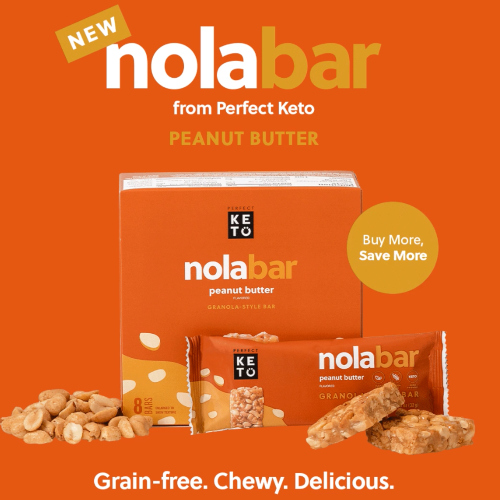 Perfect Keto recently unveiled a totally new product in two delicious flavors! Perfect Keto Nola Bars are chewy, grain-free, keto-friendly granola-style bars that taste just like the ones you loved as a kid, but with only 2-3g net carbs per bar.
Available in 🥜 Peanut Butter and 🥥 Coconut Chocolate Chip, these fun-sized snack bars are a keto snacker's dream because they are:
Clean – They are the cleanest, highest quality snacks like them on the market. The Perfect Keto team didn't cut corners and use cheap ingredients. It's a difference you can both taste and feel.
Delicious – Seriously, like "how is this keto?" delicious. Each bar is full of rich, snackable sweetness that rivals anything an average vending machine spits out. Except these are totally keto with no sugar added.
Low-carb – Perfect Keto used 4g of allulose to sweeten these bars, so each one has only 2-3g net carbs. Allulose doesn't impact blood glucose or insulin levels, so you can actually subtract those 4g from the overall carb count along with fiber and erythritol.
Portion Controlled – No need to worry about going overboard on these delicious treats. Nola Bars are smaller snack bars so they're just the right size.
Chock-full of superfood ingredients like almonds, coconut, MCT oil powder, and sea salt, these granola-style bars are satisfying and the perfect go-to between meals. They're also:
-Grain-free
-Gluten-free
-Soy-free
-Paleo-friendly
Through 8/27, you'll get 10% off 2 boxes, 20% off 3 boxes, 25% off 4 boxes, and 35% off 5 or more boxes and Free Shipping. Discount applies automatically at checkout and cannot be combined with other coupons or discounts. Shipping is Free on orders over $45.
If you see something else you want, place a separate order and use coupon BUDDY15 to get 15% off Sitewide.
2