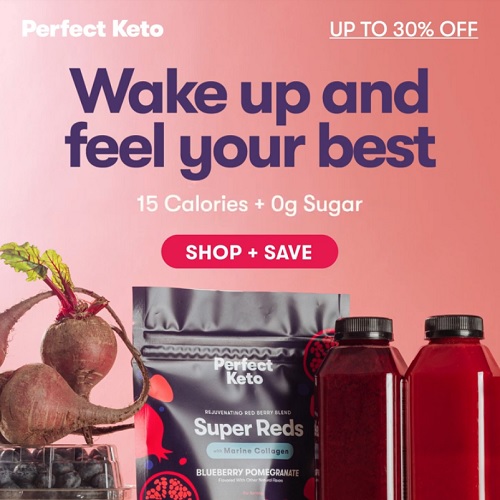 Perfect Keto just launched a new Super Reds Antioxidant Blend that's sure to become a fan favorite! To celebrate, they're offering up to 30% off sitewide on all products! No coupon required – Discount applies automatically at checkout.
– Buy 2 items, get 20% off
– Buy 3 items, get 25% off
– Buy 4+ items, get 30% off
The Super Reds Antioxidant Blend is packed with antioxidants and powerful fruit extracts to support daily energy, skin elasticity, and protection from accelerated aging to rejuvenate from the inside out. A caffeine-free energy boost is powered by antioxidant-rich berries.
One serving contains 100% of your daily vitamin C (from real fruit, not the ascorbic acid you'll find in other products) to fight inflammation, protect cells from free radical damage, and stimulate the body's natural production of collagen. Each 15 calorie serving provides 2g of marine collagen and contains only 2g net carbs.
Shipping is Free on orders over $60 and all products are backed by a 30-day money-back guarantee. Orders over $80 also come with a Free gift! Super Reds will ship in approximately 2 weeks. The rest of your order will ship within 3-5 business days.
Ordering only 1 item? Use coupon PKBUDDY20 to get 20% off your order.
1