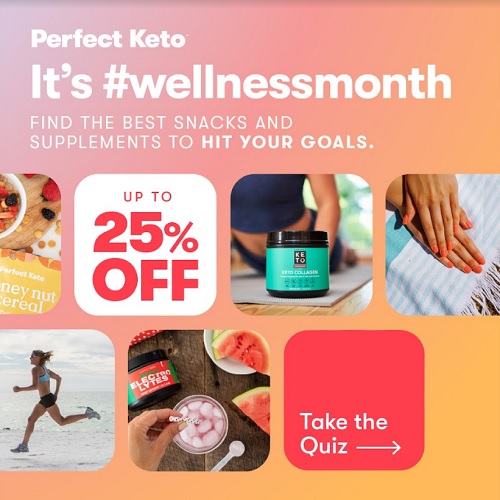 With August being National Wellness Month, it's a good time for a quick mid-year check-in. How are you keeping up with your self care? Are you..
🚰 Making sure you stay hydrated by drinking plenty of water?
😴 Getting enough sleep?
🧘‍♂️ Managing your stress levels?
💪 Getting exercise daily?
❤️ Eating a nutrient-dense diet filled with friendly fats?
To support you and your health goals this Wellness Month, Perfect Keto is offering up to 25% off their snacks and supplements.
Through 8/7, you'll get 10% off 1 item, 15% off 2 items, 20% off 3 items, or 25% off 4 or more items using coupon WELLNESS. Orders over $60 ship Free and all products are backed by a 30-day money-back guarantee. Coupon is not valid on subscription orders.
If you're looking for recommendations on which snacks and/or supplements will best support your health goals, take this Keto Quiz to find out!
Be sure to check out their bundles – They're already up to 44% off before coupon!
1