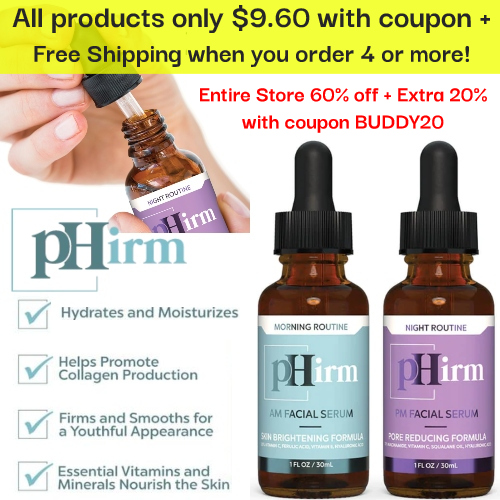 Phirm Beauty offers safe and natural skincare solutions that are effective and affordable. Their product line includes everything you need for a complete morning and nighttime skincare routine. Their products are specially formulated to help with common skin concerns, including acne, dark circles, fine lines & wrinkles, uneven complexion, hyperpigmentation, and more. All products manufactured in the U.S. and are vegan and cruelty, paraben & sulfate free.
Both routines include serum, eye cream, and moisturizer that can be used alone, but are designed to work together to protect & prepare your skin for the day and repair your skin at night. The products and their benefits in each routine include:
Phirm Beauty Morning Skincare Routine –
AM Facial Serum – Stimulates collagen production, promotes healthy skin cell turnover, helps to prevent uneven skin tone & texture, and improves and balances moisture levels in your skin.
AM Eye Cream – Hydrates and moisturizes the delicate skin around the eyes, firms & smooths for a more youthful appearance, provides essential vitamins & minerals to help soften the texture around the eyes, and promotes collagen production.
AM Facial Moisturizer – Provides missing nourishment that skin desperately needs, increases collagen production to reduce fine lines & wrinkles, and boosts hydration levels for a healthy, youthful glow.
Phirm Beauty Night Skincare Routine –
PM Facial Serum – This anti-aging serum minimizes fine lines and wrinkles, supports collagen production, increases moisture levels while decreasing excess oil production, and penetrates & absorbs quickly into the skin for super effective results.
PM Eye Cream – Helps to brighten dark circles under the eyes, nourishes the skin to improve elasticity and firmness, promotes collagen production, improves skin texture and complexion, and reduces fine lines and wrinkles around the eyes.
PM Facial Moisturizer – Regulates oil production to prevent clogged pores & acne, promotes cellular growth by nourishing skin with omega fatty acids & powerful antioxidants, softens skin's texture, and helps reduce dark spots.
The entire store is currently 60% off + you can get another 20% off your order at Phirm Beauty using coupon BUDDY20. Shipping is $5 or Free on orders of $35 or more.
4