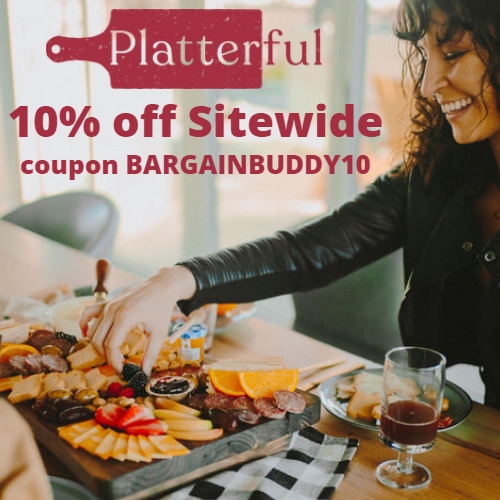 Platterful offers all-in-one charcuterie kits that are perfectly curated with everything you need to build an Instagram-worthy charcuterie spread that will be the talk of your next get together!
Platterful boxes include a variety of perfectly-paired artisan meats, cheeses, jams, mustards, nuts, chocolates, dried fruits, olives, crackers, and more. Each box comes with tailored step-by-step instructions and videos to make assembling the perfect charcuterie board a breeze.
Platterful also offers vegan and gluten-free kits as well as a variety of specialty meats & cheeses, premium accompaniments, and charcuterie accessories that are available for one-time purchase.
If you love entertaining or simply love trying new foods each month, consider a subscription. You'll get a box filled with new products to try every month delivered straight to your door at a discounted rate – So you'll save money and have a delicious spread on hand for your next at-home date night, dinner party, girls night, or any other occasion.
Monthly subscriptions come with an automatic 10% off and prepaid subscriptions are up to $43 off before coupon. Plus you'll get member-only access to tutorials on how to properly cut and store cheese, create a beautiful salami rose, accent your board appropriately with herbs, create unique board assemblies for the holidays, and much more. There is no obligation. You can modify, pause, or cancel anytime.
Get 10% off Sitewide at Platterful using coupon BARGAINBUDDY10. All orders come with a 100% satisfaction guarantee.
If you're ordering for a special occasion, be sure to plan ahead! All boxes ship on Mondays to ensure they arrive as fresh as possible. Orders placed prior to 8am EST on Monday will go out that Monday, any order placed after that will go out the following Monday. Cheeses come chilled and the rest of the products are shelf stable. Just toss the cheeses in the fridge upon arrival and you can leave the rest in the box until you're ready to assemble your board.
Platterful gives back! There are millions of children across the country who go to bed hungry every night. Platterful is on a mission to combat childhood hunger in the United States by donating 10 meals to No Kid Hungry for every box sold.
1