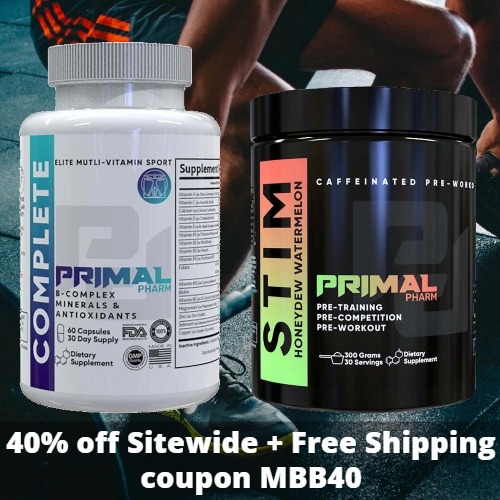 Primal Pharm is an industry leading health and wellness company with a mission to educate athletes on the importance of nutrition & supplementation, while providing the support they need through their premium vitamins & supplements.
Primal Pharm products are specially formulated to keep athletes at top performance. They offer a range of essential vitamins & anti-aging supplements for overall health & wellness, nootropic supplements to balance your mind & body and improve sleep & cognitive function, and performance & weight loss supplements to help you achieve your goals.
Get 40% off Sitewide at Primal Pharm using coupon MBB40. Shipping is Free on all orders – No minimum purchase required! Coupon is not valid on subscriptions and cannot be combined with their 10% off stacks discount.
All Primal Pharm products are backed by their First Time money back guarantee. If you aren't completely satisfied after two weeks of trying a new supplement, just let them know within 30 days and they will provide a full refund. Guarantee is valid for first time purchases only.
3