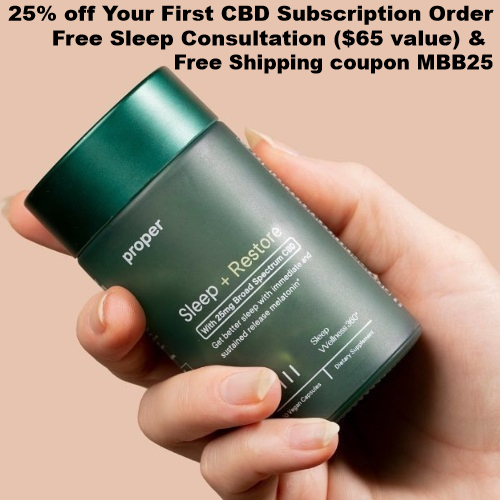 Proper Coupon
Today: 25% off Your First CBD Subscription Order, Free Sleep Consultation ($65 value) & Free S/H
Coupon: MBB25
Expires: Unknown
SHOP NOW
Did you know that 1/3 of U.S. adults don't get enough sleep? 70% of American adults report they get insufficient sleep at least 1 night a month, with 11% reporting insufficient sleep every night! Not getting enough sleep can negatively affect many areas of your life, including your health. There are tons of sleep aids out there, but most either don't work or have risky side effects. Proper is on a mission to change that!
Proper helps people repair the fundamentals of good sleep with a holistic approach that combines high-quality CBD supplements with evidence-backed sleep coaching. Their natural, PhD-developed supplements contain rigorously vetted ingredients for deeper, better quality sleep.
Core Sleep Hemp 30d is their most complete solution for better sleep. It provides the building blocks for long-term sleep health to help you gently (but quickly) ease into sleep, maintain a state of deep sleep, and wake up feeling refreshed and restored.
Sleep + Restore with Hemp builds on their Core formulation to help promote sleep health in addition to restoring and resetting your natural sleep cycle.
Optimal sleep wellness also requires behavioral changes that identify the root cause issues, which is why Proper offers a first-of-its-kind, evidence-backed sleep coaching program developed by Allison Siebern, PhD, CBSM, and Adjunct Assistant Clinical Professor at Stanford. By consulting with a board-certified coach, you'll get help in identifying the underlying causes of your sleep disruption and build healthy habits for optimal sleep.
Get 25% off your first CBD subscription order, a Free sleep consultation ($65 value) & Free shipping at Proper using coupon MBB25. They offer flexible subscriptions, which allow you to skip a month, swap products, or cancel at anytime. Proper products come with a 30-day satisfaction guarantee.
6