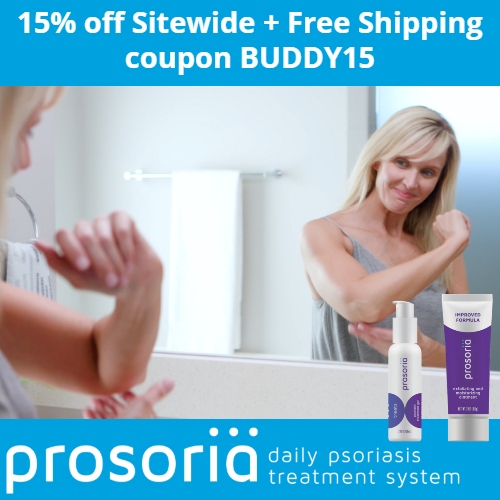 Prosoria is the first once-daily psoriasis treatment system that's clinically proven to relieve psoriasis symptoms, including scaling, flaking, itching, and redness, and help prevent recurrences.
Their unique, multi-action combination treatment system works to treat psoriasis symptoms while treating, exfoliating, and moisturizing the skin. Prosoria combines clinical strength and natural pro-botanical ingredients that help target psoriasis symptoms while softening and restoring the appearance of skin. It is formulated to feel light and silky and is steroid-free, fragrance-free, and paraben-free.
With Prosoria you can experience the confidence of clear skin in just 2 quick daily steps:
Step 1 – Treat with Prosoria™ Psoriasis Treatment Gel. This powerful psoriasis fighting treatment gel penetrates into your skin quickly. The uniquely designed formula helps relieve redness, scaling, flaking, itching, and irritation of psoriasis and helps maintain clearer skin with daily use.
Step 2 – Restore with Prosoria™ Rapid Repair Skin Exfoliating Ointment. This intensive skin treatment boosts and accelerates exfoliation to rapidly restore the skin's appearance by sloughing off dead skin cells while intensively moisturizing.
Most Prosoria users begin to see improvement in as little as 2-6 weeks!
Get 15% off Sitewide at Prosoria using coupon BUDDY15. Shipping is Free on all orders – No minimum purchase required.
All products come with a 30-day money back guarantee. If you are not completely satisfied in the first 30 days after your initial order, send them an email and Prosoria will refund your money.
2