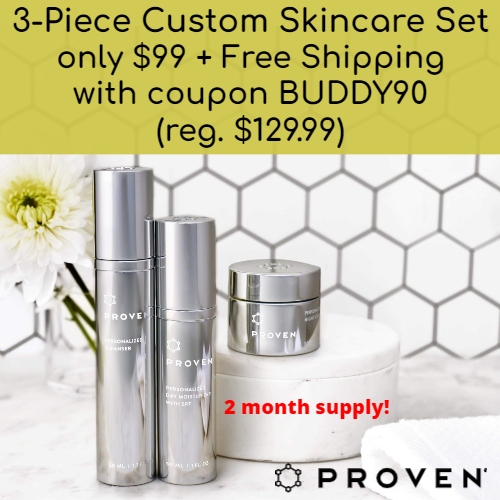 PROVEN Skincare was created when Founder & Ceo, Ming Zhao got fed up with constantly searching for skincare products that actually worked. Together with Co-Founder, Dr. Amy Yuan, they created a holistic skincare line that's completely backed by data and personalized just for you using their innovative AI technology – The Skin Genome Project.
The Skin Genome Project, winner of MIT's 2018 Artificial Intelligence Award, is the world's most comprehensive skincare database. It analyzes the effectiveness of over 20,238 skincare ingredients, information about over 100,000 individual products (luxury, prescription, generic, etc.), over 20 million testimonials from real people, over 4,000 scientific publications, and the water hardness, humidity level, and UV index where you live.
All you have to do is take a quick 3 minute quiz and their Skin Genome database instantly sifts through that incredible amount of information to find the best ingredients for your skin. Based on this data, PROVEN creates a custom cleanser, daytime SPF moisturizer, and night cream just for you. No more wasting time and money trying out products that may or may not work!
With the help of Dr. Hollmig, Head of Aesthetic Dermatology at Stanford University, each custom-made PROVEN Skincare product is formulated to give your skin just what it needs using only the best, most effective, clean ingredients. Your personal kit will provide everything you need for a fully-personalized skincare routine.
Get $30.99 off your first Custom 3-Step Skincare Set at PROVEN Skincare using coupon BUDDY90. All orders ship Free!
Through independent third party clinical tests, PROVEN Skincare was shown to be extremely effective for anti-aging, hyperpigmentation, and increasing softness, glow ,and radiance of skin. In fact, they are so confident you'll see results, they guarantee a Free reformulation if you don't!
PROVEN Skincare is made in the USA, cruelty free, and contains no phthalates, parabens, SLS, or formaldehyde.
7