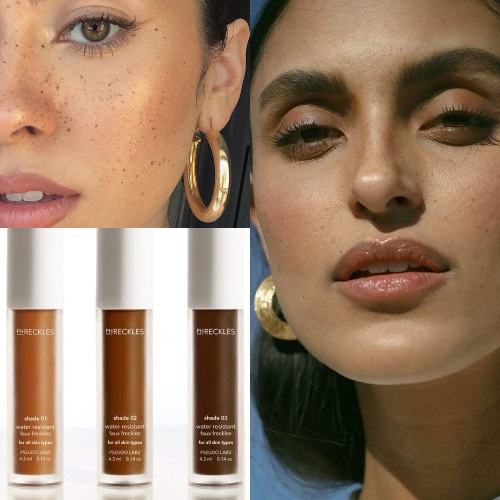 Pseudo Labs' one-of-a-kind product, PHreckles, is a water-resistant faux freckle cosmetic that accentuates and highlights the natural beauty of the face. PHreckles melts into skin and blends with your natural complexion easily, giving you gorgeous freckles in just seconds.
PHreckles come in 3 different shades. While shades may appear different on various skin types, you can easily use all three to create a look that has more dimension, or go with just one to keep it simple. If you have real, prominent freckles, you will find the most natural results by matching your real freckle shade. No matter which shades you try, they are all designed to be universally flattering for any skin type.
Their easy-to-follow technique guide ensures easy application and prepping for PHreckles is simple and versatile. For a longer hold, apply to bare skin. For a dewier glow and a more natural appearance, use a hydrating primer. Pseudo Labs recommends applying PHreckles over foundation and concealer rather than under. Depending on the natural oils in your skin, PHreckles will last 4-8 hours and are clinically tested and approved for 80 minutes of water resistance.
PHreckles are vegan, gluten free and cruelty-free. They easily wash away with your daily cleanser and one 4.3 ml fill lasts 4 to 6 months, if used every day.
Get 10% off Sitewide at Pseudo Labs using coupon READY4FALL. All orders ship Free – No minimum purchase required. PHreckles come with 30-day Free returns, excluding sale and discounted items.
How to apply PHreckles:
SHAKE – Natural separation may occur. Shake PHreckles bottle well. Hold the wand bristles up, allowing formula to run into the cap. Hold bristles parallel to the desired place of application, about an inch away.
FLICK – Run the middle of the pick softly through the bristles facing your skin. Wipe away any excess spots you do not desire before formula dries. Dip the end of your pick into the formula on the bristles. Apply larger, prominent PHreckles around the face. While PHreckles is not a stain or henna, you'll want to be cautious with surrounding fabrics and close your eyes while applying.
TAP – Working on one application sight at a time, dab the formula with a finger for lighter and less prominent PHreckles. Using the formula from the already dabbed PHreckles, apply to free spots around the face. This will give off different shades of PHreckles, allowing them to look more realistic.
4