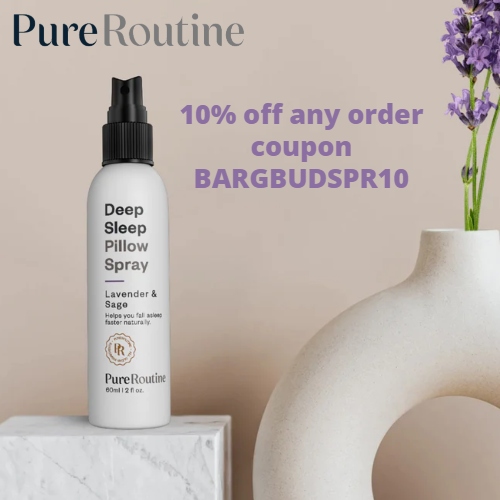 PureRoutine is on a mission to help people achieve deep, restful sleep without medication or sleep aids. Their all-natural patented and clinically proven Deep Sleep Pillow Spray will leave you feeling refreshed and energized, so you can tackle the day head-on with out the risk of side effects.
Their superblend of premium French Lavender, Chamomile, and Vetiver essential oils is designed to help you unwind and drift off quickly. It also helps to helps reduce anxiety and stress levels.
PureRoutine pillow spray was extensively tested at Cambridge University and the results were outstanding!
– Over 94% of users experienced a deeper, more restorative sleep
– 86% of users reported falling asleep faster than usual
– 98% of users felt more refreshed upon waking
– 1 in 3 users reported having the deepest sleep of their life!
Get 10% off any order at PureRoutine using coupon BARGBUDSPR10. Shipping is $4.99 or Free on orders over $50. Coupons are not valid on bundle & save deals.
2