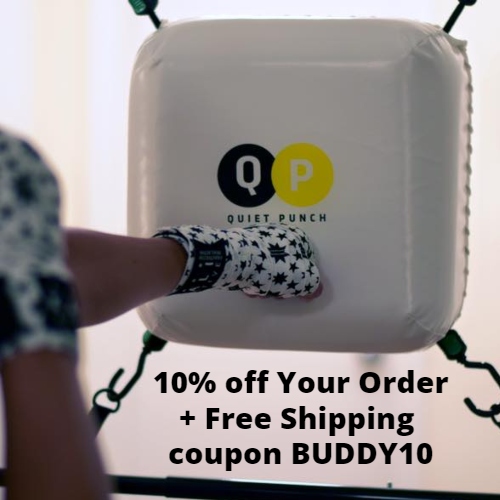 Did you know that boxing burns more calories than any other sport? But traditional punching bags take up a ton of space and are a pain to install. Quiet Punch offers a smart alternative!
Quiet Punch is a portable punching bag that easily fits in any door frame that is 28″-36″ wide, so you can practice your best moves anywhere, without sacrificing space.
Quiet Punch comes with hundreds of hours of Free training and routines for every skill level, so whether you're a pro boxer or a beginner, they have plenty of workouts to meet your needs.
For an upgraded boxing experience, get the Punch Tracking model. The Quiet Punch Tracker attaches to the back of the Quiet Punch and connects to their Free app to track your punches and the power of your punches.
Their Free mobile app also allows you to compete against their leaderboard, enjoy Free live training classes, and gives you access to 100+ hours of on-demand workouts.
Get 10% off your order at Quiet Punch using coupon BUDDY10. Shipping is Free in the continental U.S. and all orders come with Free punching gloves ($30 value).
Quiet Punch comes with a 30-day satisfaction guarantee and a 1-year limited warranty.
2