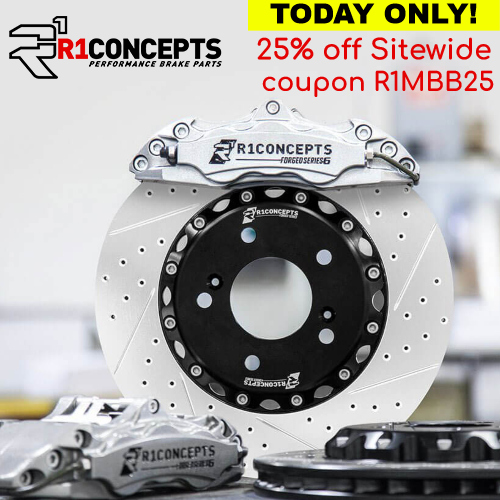 Based in Los Angeles, California, R1 Concepts is a leading manufacturer of award-winning automotive braking systems. In their 15+ years in business, they've developed one of the most comprehensive brake catalogs in the industry for all foreign and domestic vehicles from 1930-present.
You don't need to choose between performance and budget with R1 Concepts eLINE Series Brake Kits. Their Original Equipment Manufacturer (OEM) Formulation standard means you'll get equal or better performance, without the Original Equipment Manufacturer prices. Not a Do-It-Yourselfer? Bring your new brakes to a certified mechanic for a quick and easy installation. You'll still save money and have better braking performance.
If you don't need to replace your entire braking system, eLINE rotors,
GEOMET Carbon Series Rotors, calipers, brake pads, brake sensors, drums, and shoes can be ordered on their own.
Get 25% off Sitewide today at R1 Concepts using coupon R1MBB25. Shipping is Free on orders of $50 or more in the continental U.S. Coupon is not valid on fire sale items.
R1 Concepts backs all of their products with a 60-day return policy. Rotors, brake calipers, master cylinders, wheel cylinders, brake hoses, hardware kits, drums, and sensors have a 1-year warranty. Brake pads, shoes, and forged series big brake kit come with a 30-day limited warranty.
2