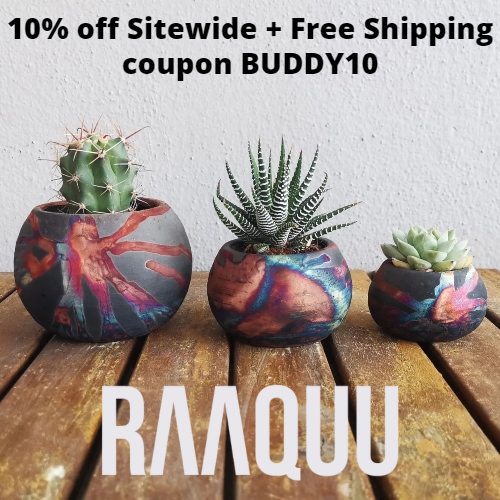 Founded by Raku ceramic artist Adil Abdul Ghani, RAAQUU is on a mission to make the beautiful world of Raku ceramics more accessible to ceramic art lovers around the world.
Raku ceramics are known for their uniqueness and brilliant colors that come from a special firing technique that produces unpredictable colors and patterns on each piece. Because of the unpredictability of this technique, RAAQUU's ceramic pieces cannot be reproduced, making each one truly a one-of-a-kind work of art.
Adil makes his gorgeous Raku pottery in 5 different types of finishes: full-copper matte, half-copper matte, smoked (or 'naked'), carbon half-copper matte, and obvara (a slightly varied technique of firing).
Any piece of RAAQUU pottery would make an impressive centerpiece for any room or office. The line includes stunning vases, sculptures, planter pots, urns, ceramic bowls, and more.
Get 10% off Sitewide at RAAQUU using coupon BUDDY10. All orders ship Free – No minimum purchase required!
Are you a potter that wants to try your hand at making your own Raku? RAAQUU offers a starter kit with everything you need to make your very own Raku work of art. The starter kit is meant for individuals with experience in pottery handling and firing.
5