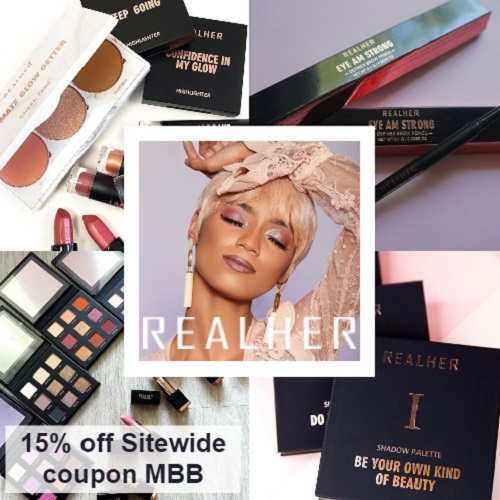 RealHer offers high quality, paraben free, certified cruelty free cosmetics. Founded by two parents with their young daughters in mind, their mission is to empower individuals, especially women, through makeup. RealHer was built on the idea that the thoughts we imbue to our daily makeup rituals can have a profound impact on our confidence and well-being. They are the first brand that uses positive affirmations as shade names on each product to inspire the wearer to be herself and to love herself. Each time you pick up a RealHer product, they want you to be reminded of your worth.
Their product line includes moisturizing & long lasting lipsticks, lip gloss & vegan lip liners in tons of beautiful shades, gorgeous eye shadow & blush pallets, lash extending mascara, a full line of top quality makeup brushes, their awesome Eye Am Amazing eye liner, which is smudge proof and proven to last 24-hours, defining brow pencils, and more.
Get 15% off Sitewide at RealHer using coupon MBB. Coupon will work on already discounted bundle deals. Shipping is Free on orders of $40 or more. All products come with a 30-day money back guarantee.
RealHer gives back –
As a brand with a mission to empower, they believe it is important to give back to their community as well. Every year, their small team actively volunteers locally and donates to nonprofit organizations that align with their mission of community and women empowerment.
Also, in response to the shocking number of shortages throughout the country that were triggered by COVID-19, REALHER's founders, Bill Xiang and Megan Merid, immediately went to work with manufacturers to produce products in high demand. REALHER has proudly donated thousands of surgical masks, latex gloves, and alcohol wipes to high-risk communities and organizations in the Southern California area.
3