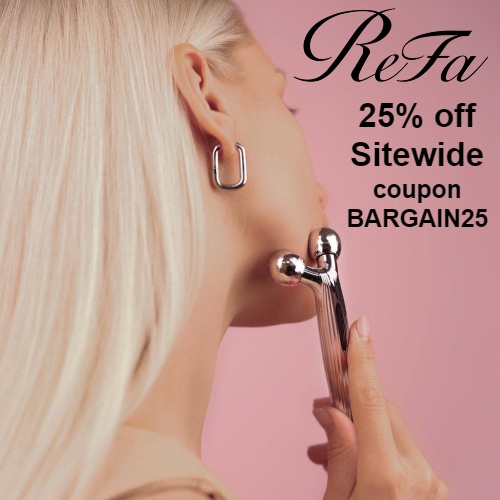 With breakthrough technology and an elegant aesthetic, ReFa offers the ultimate at-home beauty experience. Their rollers and skincare products are designed to refine your health and beauty from the inside out.
ReFa's luxury micro-current facial and body rollers lift, tone, and tighten your skin. They incorporate micro-current technology that sends low-level electrical currents into your skin to treat saggy skin, reduce puffiness, and give your skin a firmer, more contoured, and rejuvenated appearance.
ReFa offers rollers for every part of the part of the body, so you can have beautiful, toned skin from head to toe. With a unique 360-degree multi-angle design, their rollers are meant to replicate the gentle pinching and kneading sensation that you would get from an esthetician. ReFa's cutting edge rollers are platinum-coated, waterproof, and come with a built-in solar panel that captures light to generate micro-currents and eliminates the need for cords and charging, ensuring your ReFa roller is ready whenever you need it!
ReFa's top of the line skin care products include hydrating & firming face cream, eye cream that instantly and visibly diminishes dark circles, fine lines and puffiness, a misting system that delivers ultimate hydration, and more.
ReFa Collagen Enrich Jelly is one of their best sellers. This beauty ingestible can help restore skin's natural glow. Use daily to help promote a more youthful appearance as well as healthy skin, hair and nails.
Get 25% off Sitewide at ReFa using coupon BARGAIN25. Shipping is Free on orders of $150 or more.
8