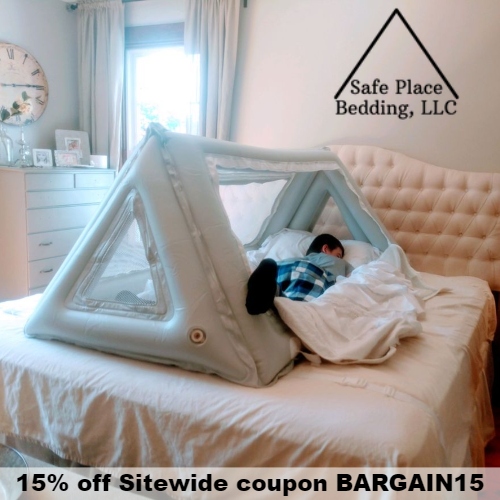 Safe Place Bedding's mission is to give your WHOLE family the joy of travel with safe, affordable, and hassle-free sleeping solutions for your restless, special needs loved one. The company was launched by Jon and Amara Smith, parents of a child with Angelman Syndrome, who struggled with sleepless nights while traveling.
When your special needs child can't sleep through the night, it takes a toll on the whole family. Even if they sleep well at home, a strange bed in a different place makes it impossible for them to rest peacefully and it's hard for you to be patient, loving, and supportive when everyone is tired and cranky.
The Safe Place Bedding travel bed changes all of that. The enclosed shape helps kids feel protected on all sides, so they can relax. Plus, it's lightweight, compact, and easy to set up in just a few minutes. Strap it onto any bed to give your kiddo a safe sleeping place, no matter where you are. The Safe Place Bedding travel bed comes with a 100% satisfaction guarantee!
Safe Place Bedding also offers sleeping essentials such as weighted blankets, compression sheets, pillows, outdoor sleep pads, blackout curtains and more.
Get 15% off Sitewide at Safe Place Bedding using coupon BARGAIN15. Shipping is Free on all orders.
5