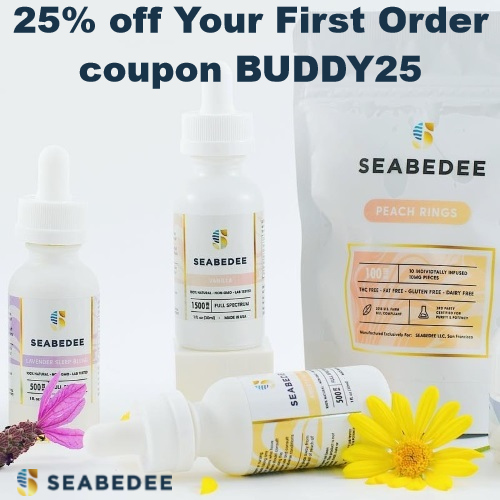 Seabedee sells premium CBD products that can help you sleep better, feel better, and recover faster. They offer full spectrum capsules, delicious sour gummies & peach rings, muscle & joint relief cream, bath bombs, CBD infused hand sanitizer, dog treats that help with anxiety and pain, a line of full spectrum CBD oils that are formulated to give you a sense of calm, get a better night's sleep, and aid in muscle recovery, and a complete line of skin care products.
Seabedee's skincare products provide everything you need to nourish your skin and deliver lasting relief from the effects of aging. Their groundbreaking anti-inflammatory formula is the first complete skincare line to combine the naturally restorative power of botanicals with the regenerative effects of full spectrum CBD and terpenes to transform your skin from the outside in. Their skin care products include:
• Green Tea Facial Cleanser – Gently resurfaces and removes oily residue and makeup, helping to soothe dry skin and revitalize any skin type. Lock in hydration, tighten pores, boost circulation, and calm irritation with the healing power of full spectrum cannabinoids. Formulated to reverse unwanted fine lines and pigmentation, leaving your skin feeling soft, clean and invigorated.
• Hydrating Toner – This Aloe & Rose Hydrating Mist delivers steady hydration and brightens complexion for a more stunning, youthful look upon every application. Designed to combat dehydration, balance pH, and protect the skin's microbiome from harmful bacteria and inflammation. Use this ultra-fine mist as a cooling pre-mask primer or a makeup-setting spray. It diminishes dryness, drabness, and the appearance of fine lines.
• Spirulina & Algae CBD Facial Mask – This cannabinoid-enhanced face mask plumps the skin with a cocktail of all-natural compounds that strengthens and restores the skin's acid mantle. Their formula softens the skin with a cooling, tingly sensation that tells you it's working. Soothe irritation, fight inflammation, and reduce signs of distress with a burst of hydration that destroys blemish-causing bacteria and prevents breakouts. Discover skin that instantly looks less oily and shiny.
• CBD Hydrating Moisturizer – Strengthen the skin's barrier, fight free radicals, and smooth the look of fine lines with this CBD-infused lotion. Their Cucumber & Lilac Moisturizer decongests pores and tightens and restores the skin to its natural luster. Proven to visibly improve the look of fine lines and wrinkles, remove redness, and address signs of dry, flaky skin. Give yourself the gift of crystal-clear, silky-smooth complexion. It is pure and gentle for even the most sensitive skin types.
Want to try all four? The complete set is only $138.75 with coupon BUDDY25 – a $235 value!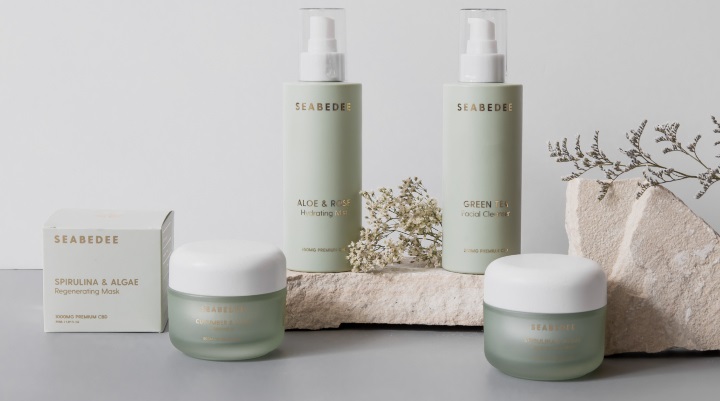 Get 25% off your first order at Seabedee using coupon BUDDY25. Coupon is valid on bundle deals and subscription orders, which are already 25% off. Shipping is $4.95 or Free on orders of $30 or more. You'll need to select Free shipping at checkout. The default shipping option is expedited for $9.95. All products come with a no questions asked 30-day money back guarantee.
All Seabedee products are made with the highest quality US-grown, organic, non-GMO hemp and a delicate CO2 extraction process to give you the best CBD products possible. Every batch goes through strict third-party testing for quality and purity.
2