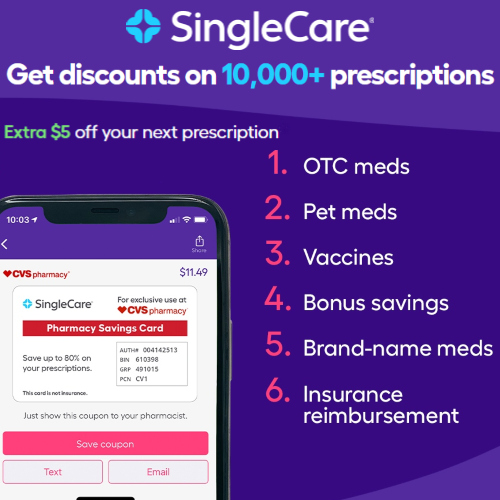 SingleCare
Today: Up to 80% off Prescriptions + $5 off Your Next Prescription
No cost for membership!
LEARN MORE
SingleCare works directly with pharmacies to negotiate up to 80% off prescription prices and they pass those savings onto their members, Free of charge. Their prices often beat the cost of an insurance co-pay! Over 35,000 pharmacies nationwide accept SingleCare discounts, including Walgreens, CVS, Rite Aid, Walmart, Kroger, and more.
Saving on medications using SingleCare is a snap! Simply register for a Free account and they'll give you $5 off your next prescription. Compare prices by pharmacy to find the best deal on your prescription. They'll provide you with a Free coupon card via email, text, or you can print it. Show your coupon to your pharmacist and save.
8