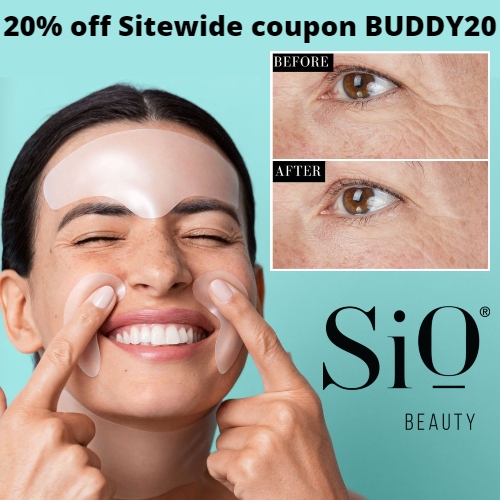 SiO Beauty offers science-backed wrinkle repair silicone patches and skincare products that can reduce the appearance of wrinkles without the hassle and pain of expensive medical procedures like fillers, chemical peels, and laser resurfacing. Their products give you medical-grade anti-aging technology at a fraction of the cost and from the comfort of your own home!
SiO Beauty's potent, multi-use medical-grade silicone patches gently compress and create a microclimate that helps wrinkle prone zones on the face and body hydrate, plump, and rejuvenate. Simply stick them on before bed or for a few hours during the day. They're designed to comfortably hug your skin while being flexible for ease of movement.
You can experience significant results overnight and with daily use, you'll get even better, longer lasting results over time. They have patches for all areas of the face, neck, chest, and even your hands. All patches are reusable up to 10 times.
For the best results, pair the patches with their Cryo skincare products to maintain skin health, sculpt facial contours, and instantly revitalize the skin.
Their Cryo collection is designed to rejuvenate, firm and contour the whole body. It includes face serum, eye cream, body cream, and their innovative Cryo Fill that blurs lines, plumps skin and locks in hydration – It is a great non-invasive alternative to injectables!
Get 20% off Sitewide at SiO Beauty using coupon BUDDY20. Shipping is $4.99 or Free on orders of $55 or more. All subscription orders ship Free!
Be sure to check out their bundles, which are already up to 30% off before coupon.
For extra savings, consider a subscription! Subscriptions come with an automatic 20% off and Free shipping. Coupon BUDDY20 will also take another 20% off your first shipment! There are no commitments and you can cancel anytime.
The ground-breaking SiO patch technology is the result of SiO Beauty founder Gigi Howard's passion to help every woman feel confident in her skin.
Gigi started getting chest wrinkles in her late 20's. As a model and beauty & fashion publicist, she saw first-hand how the industry makes women feel self-conscious and less than beautiful. After trying every doctor recommended solution on the market with no results, she set out to create her own.
The turning point came when a doctor friend introduced her to the benefits of medical grade silicone, which has been medically proven to heal scars. Gigi knew she had found the "magic" ingredient!
It took over 180 prototypes, 2 clinical trials and 4 years of development, but Gigi never lost sight of her mission to help women feel confident and beautiful at any age, and now the SiO patch is perfected and available to you!
2