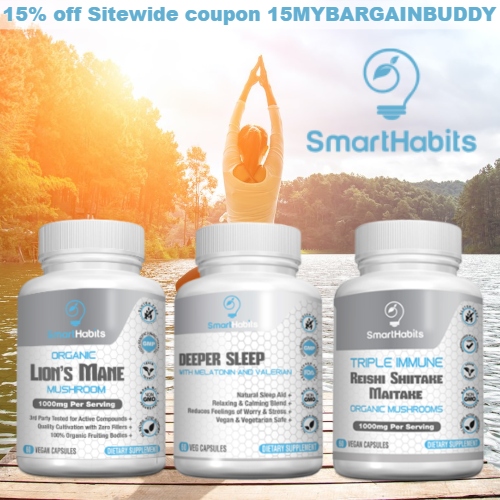 SmartHabits provides premium supplements that are sourced from natural and effective ingredients of the highest quality. With advice from a team of doctors and medical professionals, their products are formulated by scientists using ingredients that are backed by clinical studies.
SmartHabits offers three great products to keep you feeling your best:
Organic Lions Mane Mushroom – Provides brain, nerve, and immune support. Lion's Mane has been used for centuries in China for its brain-boosting properties. It has been shown to promote improved cognitive function & age-related memory decline, protect your brain and body from oxidative damage that can lead to diseases like dementia, support healthy blood sugar levels, and boost immunity. Lion's Mane is helpful in preventing colds and flus, as well as shortening their duration, and research has shown that it may have a place in cancer treatment. Studies show that the beta-glucans in Lion's Mane have powerful anti-tumor properties and may be especially useful in esophageal cancer, intestinal cancer, pancreatic cancers, and stomach cancers.
Deeper Sleep – With Melatonin and Valerian, this natural sleep aid supplement provides a deep, restful sleep and reduces anxiety, worry and stress. This research-backed product is recommended by many health professionals and doctors for people who have problems sleeping or simply want a deeper sleep. This advanced formulation will have you waking up feeling refreshed, calm and rested.
Triple Immune – Contains three wildcrafted, handpicked, high-quality, organic mushrooms: Reishi, Shiitake, and Maitake, each known to support your immune system. This supplement is crafted to provide unique benefits from each mushroom working together to boost your overall health and well-being.
Get 15% off Sitewide at SmartHabits using coupon 15MYBARGAINBUDDY. Shipping is $4.99 or Free on orders of $50 or more.
SmartHabits proudly uses only certified organic, real mushrooms in their supplements. The mushroom supplement industry is packed with companies that use fillers and preservatives rather than only using handcrafted, high-quality medicinal mushrooms. SmartHabits never adds extra fillers, and they ensure their beta-glucan levels with testing by a 3rd party laboratory.
All products are gluten free, vegan friendly, non-GMO, and manufactured using GMP (Good Manufacturing Practice) from FDA approved facilities. Each product is put through rigorous third-party testing to ensure they are safe and effective.
3