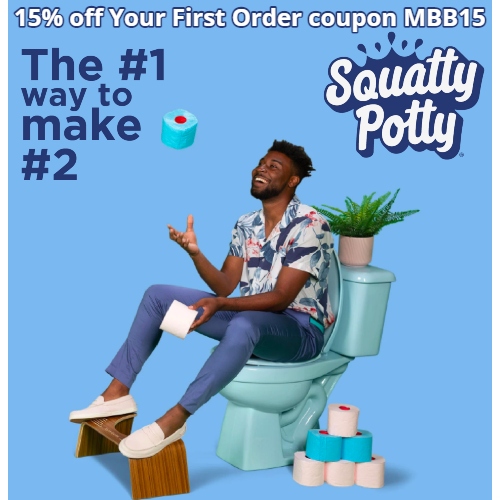 Did you know that the human body was built to squat, not sit, while going to the bathroom? The natural squatting pose actually helps you have easier and healthier bowel movements. Your body relies on a bend in the colon for everything to run smoothly during toilet time. The posture of the western toilet causes a kink in that bend, which can lead to a major blockage and cause serious health problems, such as constipation, bloating, and hemorrhoids.
Doctor recommended Squatty Potty toilet stools perfectly position your body into the natural squat that your body needs for healthier and more comfortable bathroom experiences. They are clinically proven to reduce strain in 90% of the people who have used them, increase emptiness, and decrease time spent in the bathroom.
Squatty Potty comes in many different designs and finishes to match your style and meet your specific needs. You'll find luxury wood finishes, minimalist designs in multiple colors, folding & adjustable styles, travel stools, clear stools, kids stools, and more. They even have a SpongeBob Square Pants stool and stools with motion activated night lights.
To further elevate your bathroom experience, Squatty Potty also offers a non-electric bidet, hidden toilet brush, and a line of Pootanicals pre-potty spray and Instant Wet Wipe Spray that transforms toilet paper into a cleansing wet wipe with a soothing lather.
Get 15% off your order at Squatty Potty using coupon MBB15. Shipping is Free on orders of $50 or more. Every Squatty Potty comes with a 60-day money back guarantee.
8