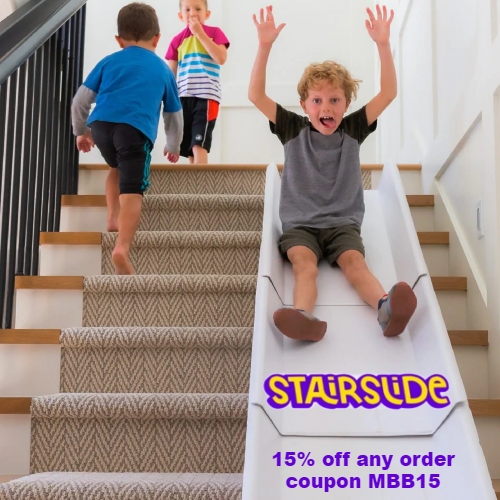 Did you ever try sliding down the stairs in a sleeping bag or laundry basket as a kid? It seemed fun, but usually didn't turn out well. StairSlide has a better way!
StairSlide is a plastic slide that is designed to safely & easily turn your stairs into a slide for hours of indoor fun. It comes in small sections that cover 3 stairs each, so you can build a small slide for younger kids or add more for your big adventurers!
The patent-pending nesting design makes it easy to assemble, add more pieces, and stack & store when you're not using it. The self-anchoring feature helps to prevent it from moving during use, so you don't need to permanently install it on your stairs.
StairSlide is recommended for ages 3-12 and can hold up to 175 pounds. It is made from durable, impact-resistant ABS plastic that is safe, scratch resistant, and easy to clean.
You can start with a single pack or go all the way up to an 8-pack. The bigger the pack, the more you save per panel!
Get 15% off any order at StairSlide using coupon MBB15. Shipping is Free on orders of $150 or more.
4