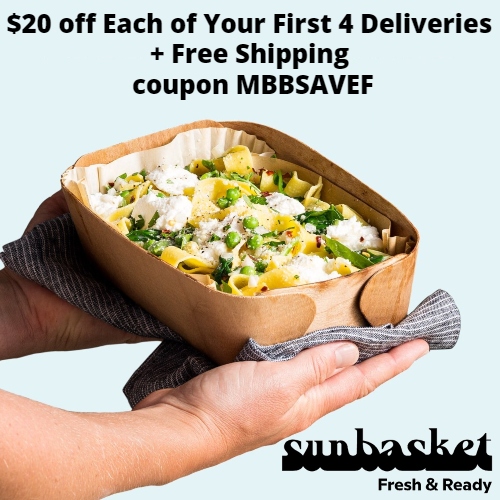 Sunbasket Fresh & Ready delivers fresh, award-winning, chef prepared, healthy meals straight to your door. Their delicious meals are made with the highest quality clean ingredients and USDA organic fresh produce. Each Sunbasket Fresh & Ready meal is perfectly sized for 1 person and ready to eat in about 3 minutes. They are great for busy nights and healthy lunches at the office. Best of all there's no prep required and no mess to clean up – simply heat & eat!
Sunbasket Fresh & Ready has meals for every lifestyle and every taste including Paleo, Vegetarian, Lean & Clean, Gluten-Free, Carb-Conscious, Mediterranean, Diabetes-Friendly, Pescatarian, and more. Their menu has something for everyone with delightful dishes like Japanese curry udon noodles, Moroccan lamb tagine, white bean turkey chili, spaghetti Bolognese, beef & vegetable stew, and much more.
Subscriptions are easy & affordable with meals starting at just $6.68. You can choose 4, 6, 8, or 10 meals per week. You can change up your number of meals, skip a week, or cancel anytime.
On a business trip? Don't waste money on overpriced, unhealthy restaurant food! Sunbasket can deliver their fresh & healthy meals to you when you're out of town as well!
Get $20 off each of your first 4 deliveries and Free Shipping at Sunbasket Fresh & Ready using coupon MBBSAVEF. As an added bonus, you'll get a delicious surprise in your first 4 boxes for Free!
Sunbasket Fresh & Ready Meals stay fresh for about 5 days in the refrigerator. You can find a use by date on the back of each meal on the nutrition label. If you're unable to finish your meals within their shelf life, you can always pop them into the freezer for extended storage.
Sunbasket also offers meal kits. If you'd like to order their meal kits, use coupon MBBSAVEM to get $35 off your 1st shipment and $15 off your 2nd, 3rd & 4th shipments. Shipping is Free!
2