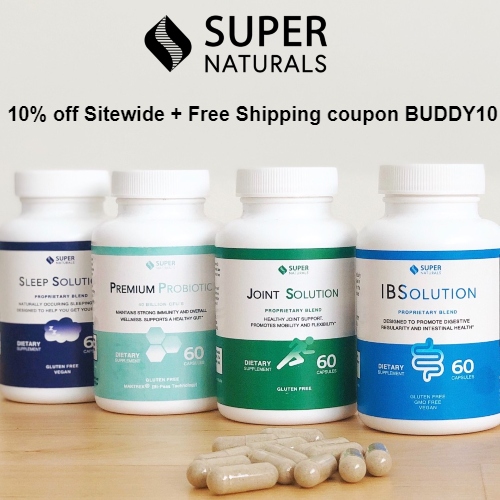 Super Naturals is passionate about helping people solve their worst everyday health problems with natural, affordable supplements. They strive to provide 100% natural relief for chronic, common issues including IBS, sleep, digestion, and inflammation.
Their IBSolution provides relief of Irritable Bowel Syndrome Relief symptoms including diarrhea, constipation, gas & bloating naturally. Their vegetarian, GMO-free and gluten-free capsules contain a proprietary blend of some of the most effective clinically proven, naturally occurring herbs and digestive aids known, including Chlorella, Aloe, Slippery Elm, Psyllium, Ginger, and the antioxidant-rich superfood Acai. 4 out of 5 patients who try IBSolution see relief!
Get 10% off Sitewide + Free Shipping at Super Naturals using coupon BUDDY10. Their supplements start at just 60¢ per day with the coupon! If you don't want to wait on standard shipping to start feeling better, expedited shipping is only $2.99 on U.S. orders. Coupon is not valid on bundle deals.
5