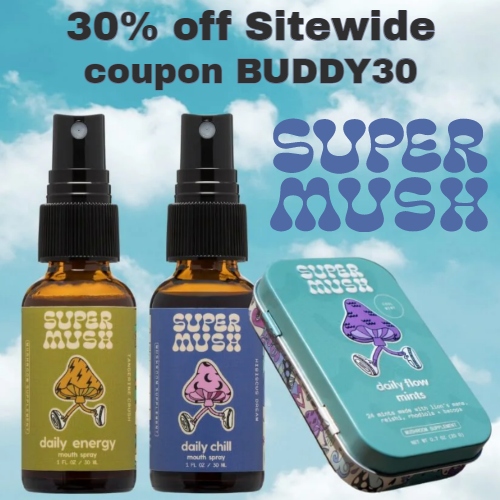 Mushrooms play a crucial role in bolstering our immune system, maintaining a healthy gut microbiome, and providing other benefits that can elevate physical and mental well-being, from improving focus and energy to promoting better sleep.
However, finding Cordyceps, Lion's Mane, Rhodiola, Reishi, Turkey Tail and other functional mushrooms at a local grocer is next to impossible and you probably don't want to eat a pile of them every day even if you could get your hands on some!
Enter SuperMush. They've condensed 20g of functional, non-psychedelic mushrooms and superfoods into on-the-go daily mouth sprays and mints.
The functional mushrooms in SuperMush products are rich in beta-glucans, compounds found to act as immunomodulators that can help the body boost immune function and adapt to environmental stress. All ingredients are vegan, gluten free, and organic. They are sweetened with a touch of organic honey and organic monk fruit.
SuperMush Mouth Sprays are available in 3 varieties –
Energy – Provides a smooth, clean burst of energy for optimal focus and performance. Try substituting for coffee!
Immunity – Adding adaptogens to your daily routine can have positive effects on occasional stress, immune support, fatigue, and overall health and vitality.
Chill – Perfect for evening relaxation or whenever you need to feel calm, cool, and collected.
SuperMush Mints are available in Daily Flow for focus and Daily Creativity for feeling connected, creative, and vibrant.
Get 30% off Sitewide at SuperMush using coupon BUDDY30. Shipping is Free on orders over $50. Coupons are not valid on subscription orders.
4