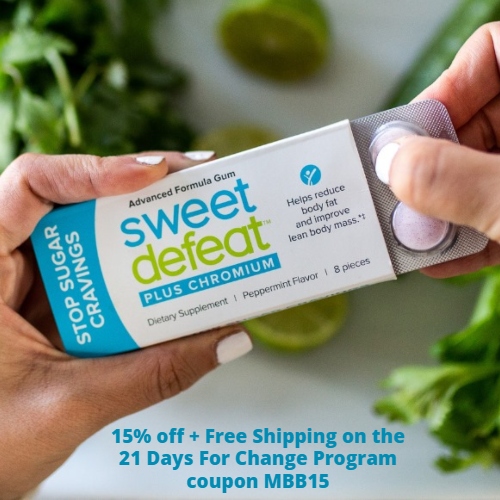 Too much sugar is one of the leading causes of weight gain and many other health issues. Figuring out how to quit sugar, or even just limit your intake, is a major challenge in a world obsessed with sweets. Sweet Defeat can help! Their clinically proven, patented formula helps suppress sugar cravings and promote weight loss the natural way.
With Sweet Defeat's advanced formula gum, lozenges and fast acting spray, you can dramatically reduce your intake of refined sugars and get as close to a sugar-free diet as possible. Their natural solution is the only formula that is clinically proven to stop sugar cravings in seconds.
The Sweet Defeat 21 Days For Change Program has everything you need to cut out sugar and get one step closer to a healthier life.
The 21 Days For Change Program includes:
• 6x 8ct packs of Advanced Formula Gum
• 2x bottles of Fast Acting Spray
• 1x 30ct bottle of Mint Lozenges
• 1x 30ct bottle of Lemon Lozenges
• PLUS: 21 days of support emails and texts from Dr. Nicole Avena
• 30-day money back guarantee
Get 15% off + Free Shipping on the Sweet Defeat 21 Days For Change Program using coupon MBB15.
How it works –
The 21 Days for Change Program is designed in partnership with renowned neuroscientist and nutritionist, Dr. Nicole Avena. The program, rooted in the science of habit formation and behavioral change, assists those who suffer from sugar cravings by resetting their habits over a three-week period.
Sweet Defeat temporarily eliminates the sweet taste of unhealthy guilty pleasure foods and re-wires your brain to resist indulgences. You just take a dose of Sweet Defeat after every meal + snacks & use as needed to deter sweet cravings.
Active Ingredients:
Gymnema Sylvestre – The Gymnema sylvestre plant has been used for centuries in Eastern medicine. It's known for its unique ability to block sweet taste and stop cravings.
Zinc – Works synergistically with Gymnema to temporarily block the sweet taste buds on the tongue.
1