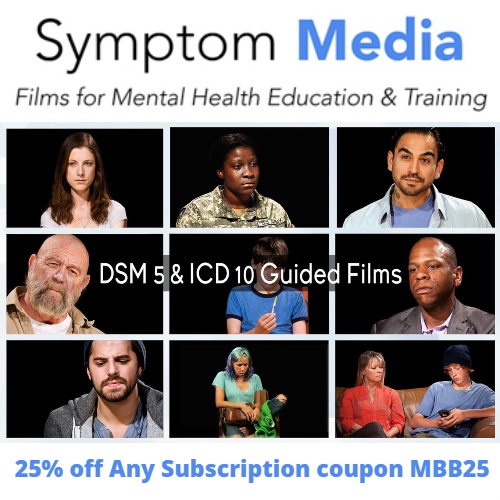 Symptom Media is an online mental health CE Course Collection and Film Library that is available via subscription. Symptom Media offers a library of over 600 Assessment Tools, DSM 5 and ICD Guided Films that are used in over 300 universities, colleges and hospitals. Symptom Media subscriptions are great for undergraduates, graduates, and professional training.
Co-founded by brothers Andrew and Matt Rubin, Symptom Media started as a partnership between film professionals and mental health clinicians with the mission to fill a critical gap in mental health education. Recognizing the need to destigmatize and show what mental health issues actually look like, Andrew and Matt fused their film and business experience with mental health clinicians to launch Symptom Media.
All films are produced with a multi-disciplinary team of behavioral health experts including psychiatrists, psychologists, social workers and a psychiatric nurse practitioner. They collaborate in all aspects of the development process alongside professional filmmakers.
Get 25% off Any Subscription at Symptom Media using coupon MBB25. You can choose an Individual Subscription or Enterprise Subscription for multiple users.
2