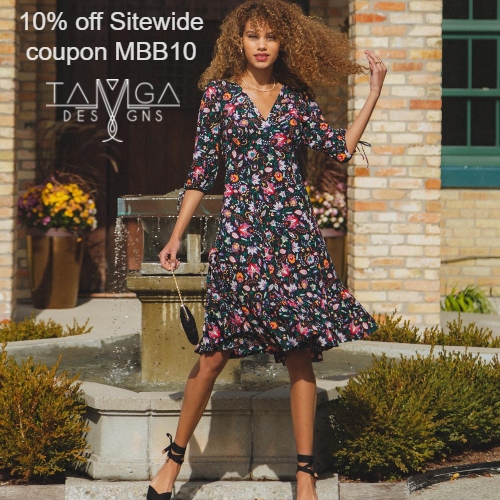 TAMGA Designs creates globally inspired and responsibly produced women's apparel and accessories. Their mission is to prove that fashion can be a force for good – they believe in a bright future for style, people, and the planet, so they create clothing that respects all three. They produce vibrant and premium quality clothing from the world's best sustainable materials, with dignified conditions for every worker throughout the process.
TAMGA Designs is inspired by travel, textiles, and most of all – color. They design every garment to be a free-flowing statement of art, creativity, and the inner free spirit. Their fabrics are luxurious, light weight, and most importantly, forest friendly – TAMGA Designs only uses fabrics from traceable and sustainable fibers. Their feminine silhouettes and flowy shapes are perfect for exploring the world, lounging at home, and everything in between.
TAMGA's great line of women's fashion comes in sizes XS-XXL and includes maxi dresses, shift dresses, midi dresses, sun dresses, mini dresses, boho-chic kimonos, super cute & versatile jumpsuits, stylish & comfy loungewear, adorable dresses, blouses & skirts for girls (in sizes 2T-5T), which are great for mommy & me outfits, scarves, hair accessories, jewelry, and more.
Get 10% off Sitewide at TAMGA Designs using coupon MBB10. Shipping is Free on orders over $125.
More about TAMGA Designs –
Demand for cheap clothing in the Western world has created a highly efficient, industrialized and global fashion manufacturing machine. In Bangladesh alone, more than 4 million people create clothing for a living and around 80% of them are women. These jobs have been an incredible force for poverty reduction in the country, but as Western brands push for lower prices and faster turnaround, it's the workers and their natural environments that suffer.
In 2016, TAMGA Designs put together a small team and spent a year setting up an ethical and transparent supply chain in Indonesia. They set out to produce bright, bohemian-inspired garments from the world's most progressive, sustainable fabrics and eco-friendly dyes. Their ultimate goal has always been to prove that creating ethically sourced women's clothing is not as complicated as it sounds. Exciting, creative fashion should not have to come at the expense of your values or your budget.
From field to fashion, the magic of TAMGA Designs begins in sustainably managed beechwood and eucalyptus forests in Europe and South Africa. Once harvested, these trees are transformed into their TENCEL™ and Lenzing Modal® fibers in a closed loop process that re-uses 99.8% of the water and chemicals. TAMGA fabrics are spun, woven and printed with GOTS certified dyes in Indonesia, before being cut and sewn by workers who make a living wage in their ethical partner factory in Bali. Since the world already has enough plastic, each garment is packaged in a bio-degradable bag. No detail is too small for TAMGA or the planet!
TAMGA Designs is a proud member of 1% for the Planet and has partnered with Canopy Style & the Sumatran Orangutan Society Indonesia's endangered rainforests.
9