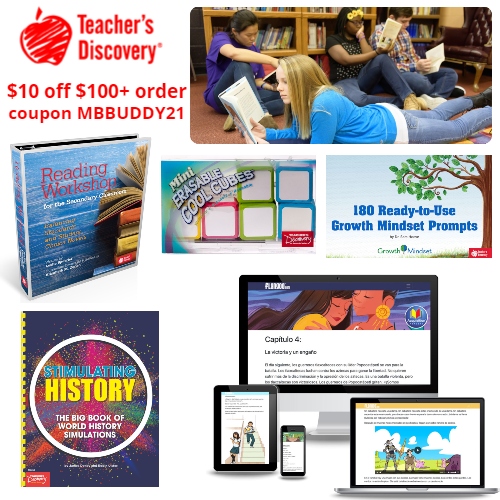 Teacher's Discovery provides learning materials and teaching resources for teachers, created by teachers. Their mission is to make learning fun and teach children the joy of discovery and critical thinking. To make this happen, they leave traditional textbooks behind and bring ideas and techniques from the world of arts and entertainment to the classroom.
Their teaching aids are designed to make your class more interesting than video games and more addictive than smartphones! Teacher's Discovery has over 5,000 products to enhance your classroom, including digital learning resources, literature books, lesson books, online textbooks, posters & classroom décor, hands on learning tools, classroom supplies & accessories, traveling exhibit rentals, and more. Their subjects include Spanish, French, German, English, grammar & writing, social studies, social & emotional learning, and more.
Get $10 off your order of $100 or more at Teacher's Discovery using coupon MBBUDDY21.
Teacher's Discovery guarantees high-quality classroom products that you can trust! If you are not 100% satisfied, just let us know and they will make it right with a replacement or full refund.
3