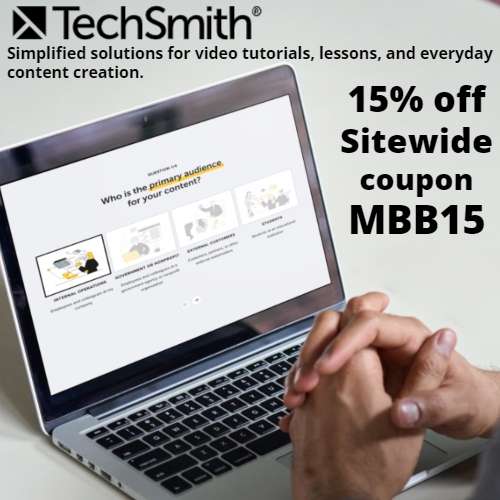 Using videos to teach and train not only saves time and money, it also helps with information retention. Within a week, an average employee forgets 65% of the material covered in a typical training session. A video can be a much more effective way of presenting information. In fact, viewers retain 95% of a message when they watch it in a video compared to just 10% when reading it in text!
Creating digital content can be time consuming and learning new software can be intimidating. That's where TechSmith comes in!
TechSmith provides easy-to-use software that allows you to create and share images and videos for better training, tutorials, lessons, and everyday communication so you can give your employees, faculty, students, and staff the tools they need for engaged learning.
Best of all, their software is designed to allow anyone, regardless of skill level, to quickly and easily create professional quality digital content such as videos, images, GIFs, and more.
Some of their popular products include:
Snagit – Mark up your screenshots, trim your video, or use a template to create visual instructions and guides.
Assests for Snagit – Includes over 400,000 royalty-free stamps, templates, and stock photos to create professional quality instructional content. You can share your creations as an image, video, or GIF.
Camtasia – Record anything on your computer screen and create professional-looking videos. Simply drag and drop text and callouts, add transitions, and do so much more with their powerful, yet easy-to-use video editor.
Assests for Camtasia – Includes over 900,000 royalty-free stock videos, music, and customizable assets to create stunning videos.
Knowmia – Video creation and sharing platform to maximize student engagement in online learning and blended courses.
Video Review – Takes the pain out of getting feedback on your videos from peers and stakeholders. Quickly get specific, actionable feedback on your video projects.
Get 15% off Sitewide at TechSmith using coupon MBB15. For extra savings check out their Snagit & Camtasia bundle deal!
Desktop software comes with a 30-day satisfaction guarantee. Monthly subscriptions are backed by a 14-day return policy, and annual subscriptions include a 30-day return policy.
Fun Fact: Since their founding in 1987, TechSmith has helped more than 65 million people across 222 countries and territories create billions of images and videos!
9