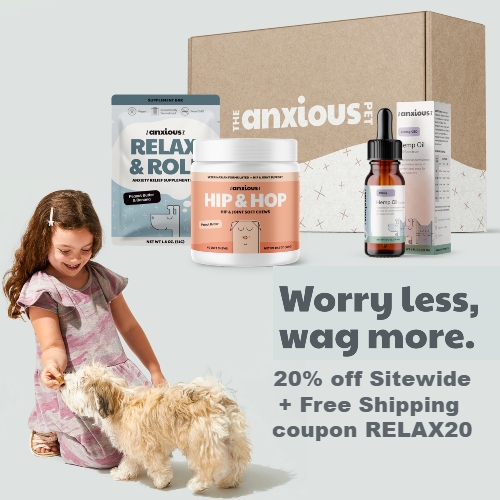 Let's face it, pets are not great at telling us what's wrong. It comes out in barks, meows, and mood changes. The good news is, with The Anxious Pet, you have the ability to help them. The Anxious Pet's sole purpose is to help our pets live happier, more peaceful lives with their safe, cutting-edge, veterinarian-formulated supplements.
Research, thoughtfulness, and extensive lab-testing go into every product The Anxious Pet carries. Their Scientific Advisory Board (comprised of leading veterinarians, scientists, & nutrition experts) painstakingly ensures each supplement meets their strict principles of quality, transparency and efficacy. That's why you won't see dozens of products on their site, but rather a carefully curated assortment that you can trust.
The Anxious Pet's products are formulated with only the purest ingredients, without chemicals, fillers, flavors, or unnecessary hard-to-spell stuff.
Their product line includes:
Relax & Roll Supplement Bars & Soft Chews (with and without CBD) – These treats not only help with anxiety, but aid in improving overall quality of life for dogs of all temperaments. They promote calm, relaxation, and restful sleep without drowsiness. Their antioxidant rich compounds prevent stress and contain powerful pain relieving, anti-inflammatory properties. In tasty non-allergenic peanut butter & peanut butter banana flavors these delicious treats make it easy to give your pup the relief they need.
Hip & Hop Supplement Bars & Soft Chews (CBD free)– These treats are the perfect hip & joint support treat for before morning walks, play time, or jumping on the couch. Dogs young and old can benefit from hip and joint support. Their ingredients, like Glucosamine and Chondroitin, aid in the nourishment & lubrication of joints, support cartilage & connective tissue health AND boost the immune system, reducing pain & inflammation, and elevating overall health.
Organic Hemp Oil for Dogs & Cats – Hemp oils are the safest, most effective delivery system for CBD for your dog or cat. The included dropper with clear mL measurement makes it easy to give your pet the correct amount of hemp oil either directly in the mouth or on food. Their hemp oil promotes calm & reduces anxiety related behavior, supports the immune health & brain function, reduces inflammation & skin irritation, and helps with seasonal allergies.
Get 20% off Sitewide at The Anxious Pet using coupon RELAX20. All orders ship Free!
The Anxious Pet offers a 60-day money back guarantee on everything they sell! You should see a new sense of peace and happiness from your pet within a week. If you're not 100% in love, they'll give you a full refund. No questions asked.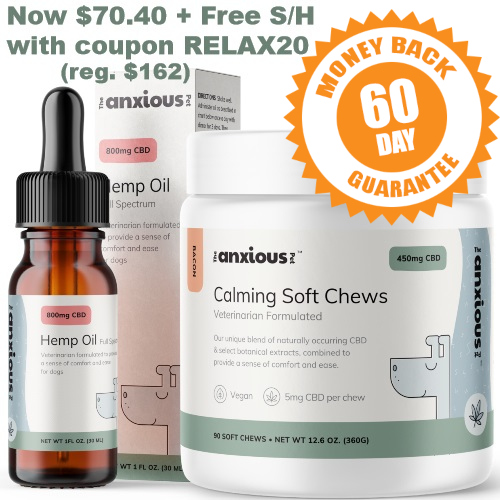 The Anxious Pet Calming Kit for Dogs is currently 45% off and just $70.40 + Free S/H after coupon RELAX20 (reg. $162)
4