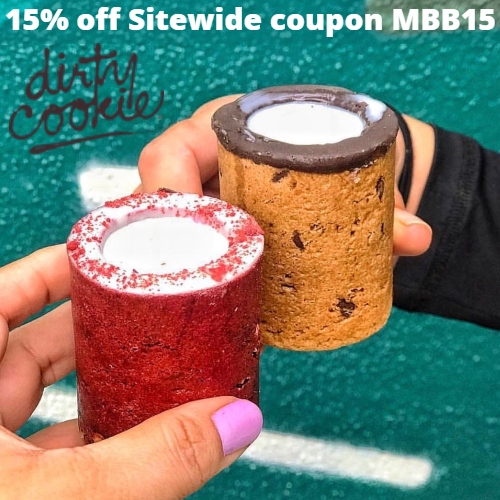 The Dirty Cookie offers delicious cookie shots that make great gifts and add a fun & unique touch to any gathering. They can be filled with any beverage, like milk, coffee, hot chocolate, or your favorite liquor – Simply fill, sip, bite, and enjoy!
Dirty Cookie Shots are baked fresh daily and shipped straight to your door for ultimate freshness. They are available in chocolate chip, red velvet, churro & double chocolate flavors and they come in ready-to-go assortments and fun DIY decorating kits for all of your favorite holidays and special occasions.
Serving Tip: Fill your Cookie Shots with pudding, ice cream, or whipped cream instead of a beverage for a fun & festive dessert!
The Dirty Cookie also makes stuffed cookies that are filled with scrumptious cookie butter, cheesecake, or Nutella!
Get 15% off Sitewide at The Dirty Cookie using coupon MBB15.
All products are certified kosher. Vegan and gluten-free options are available.
The Dirty Cookie gives back! They partner with education focused nonprofits that provide tools, resources, and access to education for kids in need. Their partners range from STEM to reading and have a focus on supporting underserved communities. Their mission is to impact the lives of 10 million children through their Shot for Education program.
3