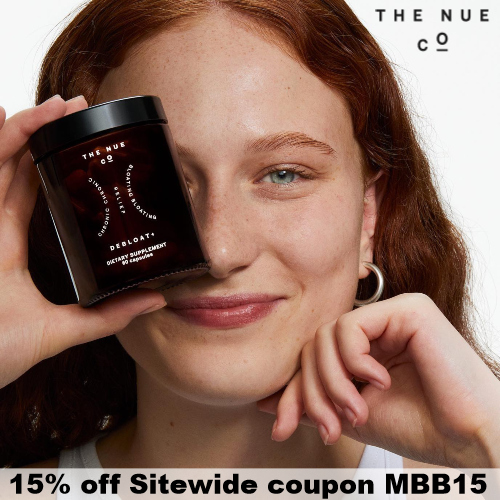 The Nue Co. creates science-backed supplements that are made with natural, clean, and organic ingredients to boost your mind, body, and skin. By working with clinically proven ingredients, as well as the best practices from Ayurvedic and Chinese medicines, they blend science and natural innovation to deliver effective, yet gentle solutions.
The Nue Co.'s range of top-quality supplements support things like gut health, energy, sleep, immunity, skin health, and more.
Some of their popular products include –
• Debloat + – This clinically proven formula of seventeen digestive enzymes and Ayurvedic extracts work together to ease a bloated stomach, fast. In a third-party clinical trial, the ingredients in Debloat+ were proven to reduce bloating, upper abdominal pain, gas, and heartburn by 51% in just 30 days.
• Skin Filter – Designed to improve sun damage, pigmentation, breakouts and blur impurities in just sixty days. Their patented blend of Vitamin C, Zinc, Champagne Grape Seed and Melon is clinically proven to improve skin luminosity, pigmentation, blemishes, and elasticity.
• Functional Fragrance – This "fragrance with a function" is designed to help you reset at times of high stress. Developed using data insight and research into the connection between cognitive function and the olfactory system, this anti-stress supplement is delivered in the form of a unisex fragrance that has a clean, woody, spicy, and smoky scent and is made with green cardamom, iris, palo santo, and cilantro.
The Nue Co. formulas are free from toxic preservatives, additives, flavorings, and sweeteners. They are organic, vegan, and gluten-free, wherever possible, and always cruelty-free.
Get 15% off Sitewide at The Nue Co. using coupon MBB15. Shipping is Free on orders of $75 or more. All orders come with 30-day easy returns, The Nue Co. will even pay for the shipping! Coupon is not valid on subscription orders.
Not sure which products are right for you? Try their online consultation to get a supplement program that is tailored just for you!
7