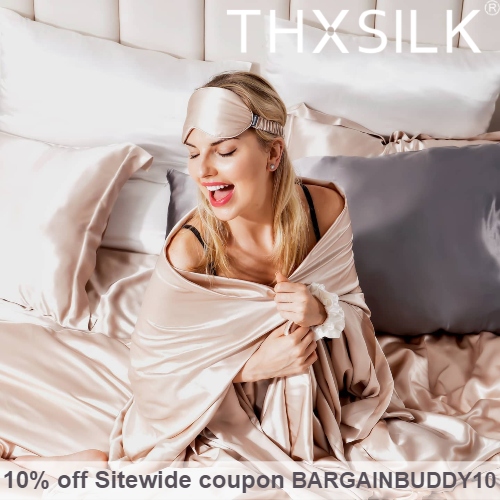 THXSILK provides the finest quality silk products including flat and fitted sheets, pillows & pillowcases, comforters & duvet covers, baby bedding, eye masks, scarves, scrunchies & headbands, panties & sleepwear, and their amazing Aqua Series face masks, pillow cases and sleep caps.
Silk can improve your skin, appearance, and overall health. When spun into sheets, pajamas, and scarves, silk may help ease menopausal hot flashes, prevent the effects of aging, and relieve certain skin conditions. THXSILK's anti-aging Aqua Series combines silk and hyaluronic acid to reduce fine lines, hydrate, and help lock in your skin's natural moisture.
THXSILK's silk is unmatched in quality, completely pure, hypoallergenic, antibacterial, its temperature-regulating properties help you sleep by wicking moisture from your body and adjusting to body temperature, plus it is super soft, comfy, smooth and breathable.
Get 10% off Sitewide at THXSILK using coupon BARGAINBUDDY10 OR get 15% off Aqua Series products using coupon BARGAINBUDDY15. Shipping is Free on all orders.
8