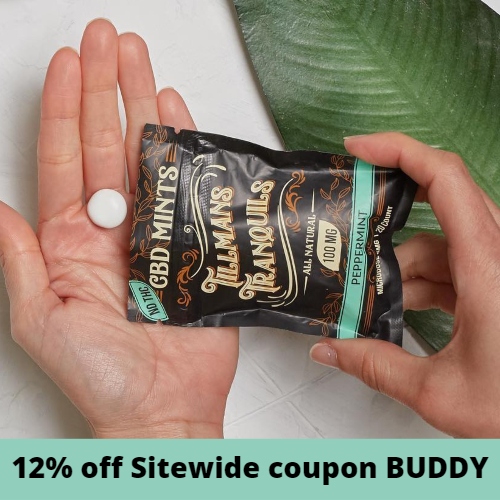 Tillmans Tranquils offers great tasting CBD mints, daytime & nighttime gummies, and whole flower pre-rolls that are made with the highest quality, all-natural ingredients.
Tillmans Tranquils is best known for their CBD mints, which are packed full of flavor and provide an easy, convenient, and discreet way to enjoy CBD wherever you are. They come in delicious mint & cinnamon flavors. The peppermint is cool and refreshing and the cinnamon has the zing you expect from cinnamon flavor, but not as intense as Big Red cinnamon gum.
All products are made in the USA, non-GMO, vegan, gluten free, and 3rd party lab tested for safety and purity.
Get 12% off Sitewide at Tillmans Tranquils using coupon BUDDY. Shipping is a flat rate of $3.25 or Free on orders of $100 or more.
Tillmans Tranquils believes it's best to put plants before pills whenever possible. As emerging data came about for CBD and how it is used to treat various ailments, they decided to give it a try. After using CBD personally, they went on to research the best ways to absorb CBD. After learning sublingual is one of the best ways for maximum absorption, they tried several products on the market and knew there had to be a way to make a better tasting product.
There were many hurdles to overcome in producing the best tasting CBD mints on the market while maintaining an all-natural ingredient profile. However, after many months of trial and error they finally found the formula that fits their 'natural ingredient first' ethos while delivering a great tasting product.
3