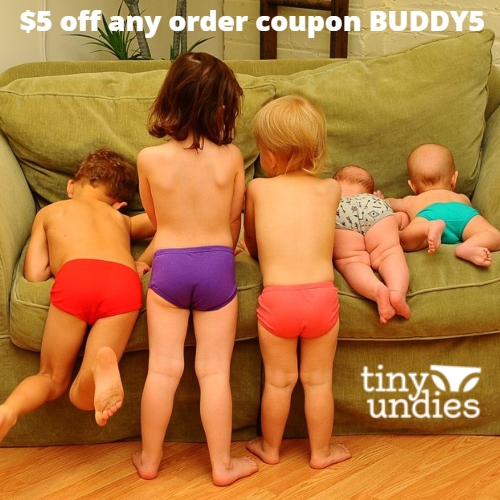 Looking for small underwear that actually fit your baby or toddler? Look no further! Created by a mom of 5 who was sick of all the undies on the market sagging, drooping, and falling off, TinyUndies provides baby/toddler underwear in sizes 6 months to 5T that are made to fit tiny hineys comfortably, snuggly, and help with potty training and elimination communication.
TinyUndies offers everything you need to make potty training and elimination communication easier and more efficient, including their signature tiny undies, training pants, cloth pull up covers, cloth diapers, potties, wet/dry bags, training books, and more.
Their tiny undies & tiny trainers are made of super-soft 100% OEKO-TEX 100 Certified cotton with eco-friendly dyes on colored styles (natural color is undyed/unbleached). These undies are BCSI-Certified sweatshop-free and free from harmful chemicals. They are tag free, itch free, and low-rise, which is an anatomically correct fit for babies, young toddlers, and older toddlers who typically have a tiny waist and protruding belly.
Their tiny trainers are perfect for potty training. They feature a double-layer crotch to keep your floors and clothing relatively dry while still enabling your child to feel wet when an accident or "miss" occurs. For a nighttime training pant use, simply cover one or two layers of Tiny Trainers with a wool diaper cover for bed protection.
Get $5 off any order at TinyUndies using coupon BUDDY15. Shipping is Free on orders of $65 or more.
What is elimination communication?
The elimination communication potty training method is based on the idea that babies naturally signal when they need to go. Once you've figured out your child's cues, you can position them over a potty and make a sound (like a whistle or a hiss). They'll eventually respond going potty on demand. Essentially, parents practicing this technique use diapers as more of a "back-up plan" instead of their baby's main receptacle for waste.
3