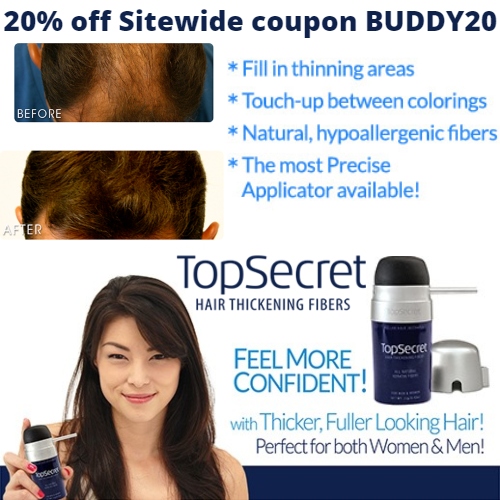 TopSecret is the premier system for creating the illusion of thicker, fuller hair. Used by top hair and makeup artists on movie sets, runway shows, and Broadway plays, it was exclusively sold to professional hair and makeup artists for over 20 years, but now it's available to anyone who wants to look and feel their best.
TopSecret is the only company with a patented precision Airburst Applicator that applies a fine mist of fibers precisely where you want them, so you get the most natural look possible. In fact, it's so precise that it can even be used it on eyebrows, mustaches, and beards!
Application is super easy! Just spray it on where you need it to conceal thinning hair or parts, even out facial hair, fill in eyebrows, or to touch up roots between colorings. The applicator does all the hard work for you by applying the fibers in a natural way with no clumping or uneven thickness.
The premium plant-derived keratin micro fibers instantly cling to your hair and scalp and stay put until you wash them out with shampoo, so you don't have to worry about them coming off in wind, sweat, or even rain! The fibers come in 9 different colors that you can mix & match to achieve the perfect shade.
TopSecret works for men and women and is perfect for everyday use, special occasions, or when you just need an added boost of confidence.
Not sure it will work for you? No worries! TopSecret comes with a 30-day money back guarantee.
Get 20% off Sitewide at TopSecret using coupon BUDDY20. Shipping is $5.99 or Free on orders of $49 or more.
Fun Fact: TopSecret was voted Best Hair Secret for men & women by New York Fashion Week!
TopSecret is a temporary cosmetic solution to enhance the appearance of your hair. You must have at least some hair in order for it to be effective.
2