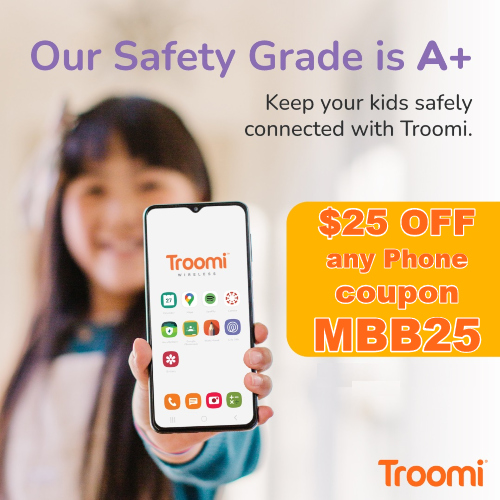 Troomi is the safe phone that grows with the needs and maturity of your child. Kids can graduate seamlessly from one level of responsibility to the next at a pace you dictate using their parent portal. You can start with a device that's completely locked down with talk and SMS texting only, then easily add functionality without having to replace hardware.
Troomi phones use KidSmart OS to create the perfect phone environment for kids. They do not allow pornography, social media apps, or harmful games and they include military-grade security to combat predators and intrusions.

Other features include –
SafeListing – Ensures your child can only make and receive calls and texts with people on their contact list.
Remote Text Monitoring – No more awkward reviews of your child's text messages while they wait impatiently. Review texts anytime in the Parent Portal.
GPS services – See where your child is, the battery life remaining on their device, and their cellular and WiFi status.
Toomi carries Samsung devices and plans start at just $19.95/month for unlimited talk & text on one of America's leading 4G/5G networks. No contract is required! Get $25 off any phone at Troomi using coupon MBB25.
7