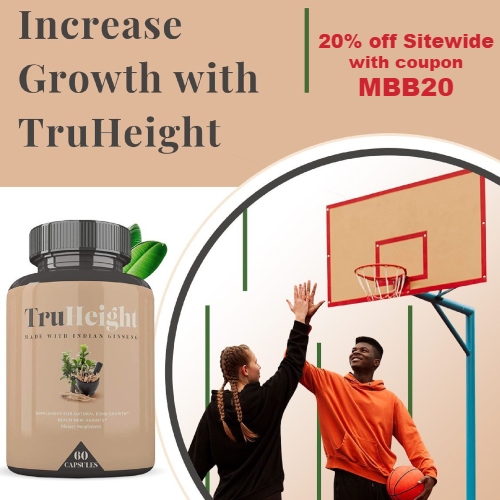 After learning 70% of U.S. adolescents are lacking nutrients essential to bone growth, TruHeight was started as a way to bring comprehensive and convenient nutrition to kids and teens who want to grow to their full height potential. They teamed up with pediatricians and biochemists to innovate and formulate their products, using only potent natural ingredients that have been clinically tested.
Made with Ashwagandha, Calcium, Vitamin K, and Vitamin D, their Growth Capsules and Growth Gummies support natural height growth, stimulate bone growth and development, and help reduce symptoms of stress.
TruHeight's Growth Protein Shake contains the perfect balance of vitamins and minerals, including 16g of protein, macro and micro nutrients, zinc, potassium, and vitamins A, B, and C with only 2g of sugar per serving.
Since lack of sleep and stress can cause stunted growth, TruHeight also offers Sleep Gummies which promote optimal sleep and reduce the time it takes to fall asleep with the help of Melatonin, L-Theatine, and Lemon Balm.
Get 20% off Sitewide at TruHeight using coupon MBB20. Coupons cannot be applied to subscription orders.
3