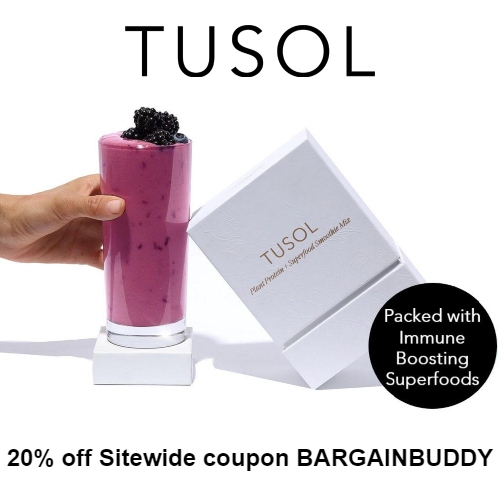 Tusol offers perfectly nutritious smoothie mixes that you can make in under a minute. Their all-in-one meal and supplement replacement smoothies are packed with immune boosting superfoods that boost energy, weight loss, collagen, and mental clarity, as well as provide gut support and hormone balance – in one simple step. Just blend with ice & water and enjoy!
Their smoothies contain 20g of plant protein, 29 superfoods, probiotics, and enzymes. They are organic, vegan, gluten free, contain no added sugar and are made with clean, sustainably sourced ingredients that are third party tested for safety and purity.
Tusol offers five great tasting smoothies:
Energize Metabolism Cacao + Lion's Mane
A delicious chocolate shake that is designed to boost the happy chemicals in your brain. With cacao, lion's mane and reishi, this blend contains a cocktail of nutrients that have been studied to prevent depression, reduce fatigue, and improve immunity. Together these ingredients function to lift your mood and give you the energy you need to start – and finish your day.
Rejuvenate Glowing Skin Maqui + Baobab
A berry sorbet filled with antioxidant-rich botanicals that combat oxidative stress, reduce the effects of aging, and work alongside vitamin C to stimulate healthy collagen production. Both chaga and maca contain enzymes that increase each other's antioxidant potency, sesame seeds and tocotrienols work together to increase absorption of vitamin E, and sesame seeds and maca work together to balance hormones – all leaving you feeling your lightest and brightest.
Balance Gut Health Matcha + Ashwagandha
This green tea ice cream flavored smoothie is designed to help reduce stress, promote gut health, and stimulate detoxification. Pumpkin seeds, matcha and ashwagandha assist in balancing cortisol levels, while spirulina, wheatgrass and barley grass help support internal cleansing. Added prebiotics, probiotics and enzymes give this smoothie an extra boost to nourish the microbiome and eliminate bloat once and for all!
Calm De-Stress Turmeric + Ginger
A golden latte flavored smoothie that kicks inflammation to the curb with powerful herbs that target the cells and support immunity. They have added high-potency curcumin for serious results, and vitamin E in the form of tocotrienols to control and activate agents that regulate inflammation. Alongside ginger and cinnamon, these botanicals work in synergy to support cellular function.
Illuminate Focus Banana + Chaga
This banana muffin smoothie is not only a tasty treat, it is specifically designed to protect acetylcholine – the neurotransmitter in the brain responsible for memory, learning, and emotional response. Lion's mane increases the production of acetylcholine, chaga protects it from oxidative stress, and maca inhibits AcHE – an enzyme that destroys acetylcholine. Together these ingredients help keep you sharp so you can remember where you put those keys!
Get 20% off Sitewide at Tusol using coupon BARGAINBUDDY. Shipping is Free on subscriptions and on one-time orders of $100 or more.
To get the best price, sign up for their subscription option. You'll get a box of 20 smoothies each month and your first order is $95.20 with coupon BARGAINBUDDY. Shipping is Free and subscriptions can be paused or canceled at any time.
Not ready to dive in with a subscription? Order the 5 Smoothie Sampler or the 20 Smoothie Box as a one-time purchase!
2