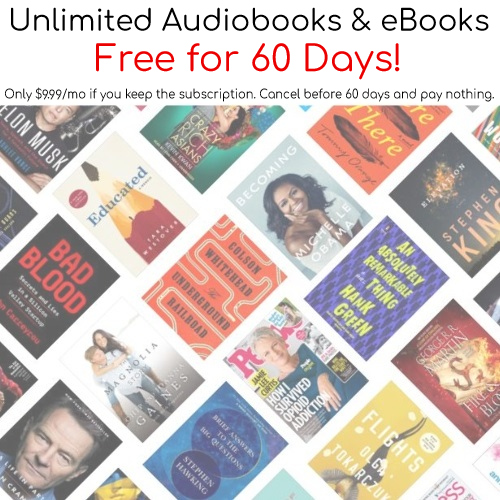 Sick of paying so much for Audible? Sign up at Scribd and you'll get unlimited access to millions of ebooks and audiobooks with no limits on listening, reading or downloading. Try their service Free for 60 days! If you like it, you can continue with a membership for just $9.99/month. If you don't, cancel before the 60 days is up and pay nothing!
A Scribd membership comes with many perks, including –
Free Pandora Plus Access (reg. $4.99/month)
Create ad-free personalized music stations from your favorite songs, artists, or genres that speak to you.
Free TuneIn Premium Access (reg. $9.99/month)
From the NFL, NBA, and NHL, to commercial-free news from MSNBC, CNBC, and more, listen to what matters most to you.
Free Peak Pro Access (reg. $2.99/month)
Flex your cognitive muscles with the most popular brain training games.
Free MUBI Access (reg. $10.99/month)
Watch cult, classic, independent, and award-winning films from around the world.
Free CuriosityStream Access (reg. $2.99/month)
Dive deep into your favorite science, technology, nature, and history documentaries and be inspired.
Free CONtv + Comics Access (reg. $6.99/month)
Everything for your inner geek from cult classics, anime, and B movies to Transformers, Star Trek, comics, and graphic novels.
Free FarFaria Access (reg. $3.99/month)
Unlimited read-to-me children's storybooks and bedtime stories for kids ages 1–9.
22