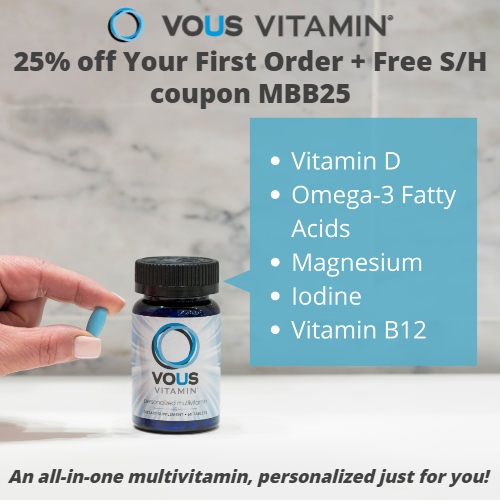 Finding the right health supplement regimen can be confusing. There are so many products out there, all with big claims of amazing results, but a lot of them don't actually work! The FDA doesn't regulate the vitamin industry, so how can you tell the real from the fake?
On top of that, no two people are the same – We don't all eat the same things, have the same family history, get the same amount of exercise, or live the same. That's why one-size-fits-all supplements don't give you the results you're looking for.
Created by two doctors and friends, Drs. Romy Block & Ariel Levitan, Vous Vitamin takes the guesswork out of health supplements. They provide premium, all natural vitamins & supplements that are truly effective and customized to the unique health needs of each individual.
They pride themselves on being a company built on quality, honesty and transparency. Their vitamins & supplements are backed by decades of medical training, in-field expertise in endocrinology, metabolism, and preventative health, and extensive research & product development.
Finding your personalized regimen is easy. Just take a quick physician-made quiz and Vous Vitamin will create a custom all-in-one vitamin that combines your daily needs into one convenient tablet. You'll get details about what their physicians are recommending and how it's right for you, so you know exactly what you're taking and why. Since our bodies are always changing, you can retake the quiz anytime for a newly personalized vitamin to match your changing needs.
Vous Vitamin also offers top-quality Omega-3 that you can add to your daily regimen and situational supplements – Mountain Rescue to combat the effects of altitude sickness, Recovery Act for hangovers, Immune Blast to help fight a cold or flu, and Power Up for a boost of energy when you need it.
Get 25% off your first order at Vous Vitamin using coupon MBB25. All orders ship Free – No minimum purchase required! All personalized multivitamins are backed by a 30-day money back guarantee. Situational supplements are not eligible for return.
You can purchase a single bottle of personalized vitamins to try them out or, for the best price and added convenience, consider a 3- or 6-month subscription! You'll get a discounted rate, ensure you don't run out, and coupon MBB25 will apply to the total price of your first order, not just the first month supply! There are no commitments and you can cancel anytime.
2