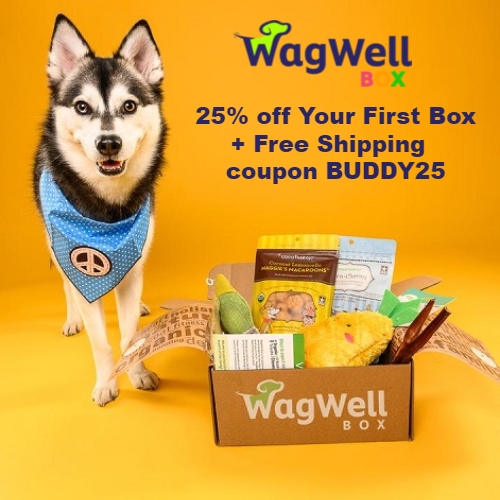 WagWell Box is an affordable monthly subscription box for your pup that's fun & healthy! Every monthly box comes with two bags of 100% organic dog treats, two all-natural bully sticks, a premium dog toy, and a fashionable dog bandana.
WagWell Box was founded on one simple belief – Your dog is your family and you shouldn't have to compromise on giving them the best treats and toys to keep them healthy and happy. Their 100% organic treats are made in the U.S. or Canada with simple and clean ingredients and contain health-boosting foods, such as berries or pumpkin. Their all-natural bully sticks are made from grass-fed beef, with absolutely no added chemicals. They are a great way to keep your dog occupied and clean their teeth at the same time!
Get 25% off Your First Box + Free Shipping at WagWell Box using coupon BUDDY25. Coupon will also work on gift orders.
12