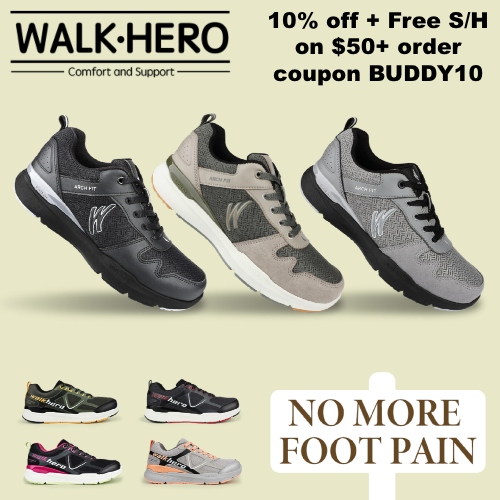 At WalkHero, you'll find a broad selection of footwear that's designed to enhance quality of life for people dealing with foot issues like Plantar Fasciitis, bunions, heel spurs, Hammer Toe, Fibromyalgia, and other conditions that can make wearing shoes uncomfortable.
Foot orthotics can play a vital role in the prevention of foot discomfort related to these conditions. With appropriate support, specialized footwear can be effective at increasing the overall comfort level with walking. WalkHero shoes feature built-in orthopedic insoles that blend premium EVA foam materials to provide you with cushioning in all the right places.
Get 10% off and Free shipping on your order of $50 or more at WalkHero using coupon BUDDY10. All shoes are backed by Free returns and exchanges within 180 days from the date of delivery.
3