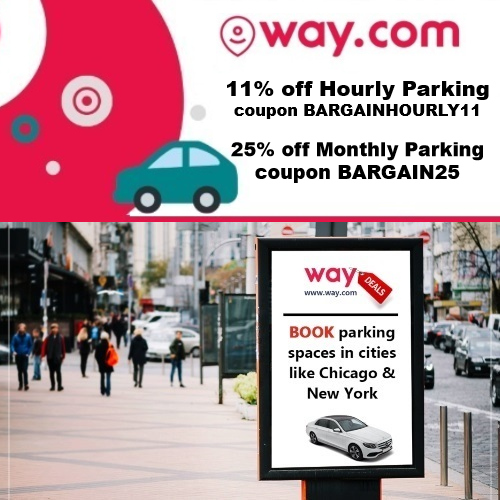 Way.com Coupons
Today: 11% off Hourly Parking or 25% off Monthly Parking
Coupons: BARGAINHOURLY11 or BARGAIN25
Expires: Unknown
BOOK NOW
Say goodbye to the days of circling around parking lots searching for a spot! With Way.com, you can reserve a parking space in advance any time you need parking in the city. Way.com makes it easy to find the best deals on parking and ensures you will have a place to park your vehicle.
You can use Way.com in most major cities across the country. It's perfect for locating parking in your home city, for work, and especially while you're traveling! Their app makes it super easy to search and book parking while you're on-the-go. Going to be late to your parking reservation? No worries! You can update and make changes to your reservation in the app with a simple tap!
Get 11% off hourly parking at Way.com using coupon BARGAINHOURLY11. $5 maximum discount. You'll need to log in or register on their site to apply the coupon.
Need parking for a month? Use coupon BARGAIN25 to get 25% off Monthly Parking.
5