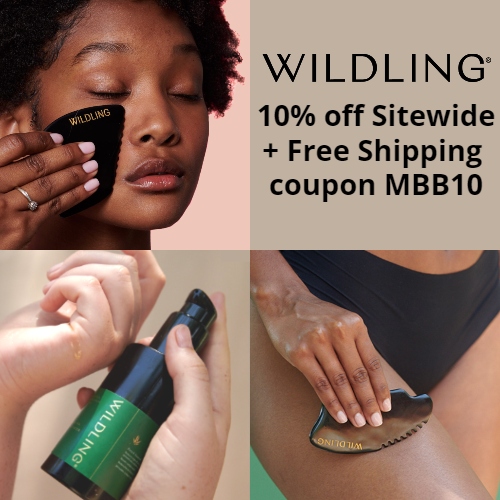 Wildling products are designed to smooth, sculpt, tone, and tighten your body from head to toe! They offer premium skincare products that are formulated with powerful botanical infusions and rooted in traditional Chinese medicine, specifically gua sha.
Gua sha is a natural, alternative therapy that involves scraping your skin with a massage tool to improve your circulation. Benefits of gua sha include reduction of fine lines and wrinkles, healthy lymphatic drainage, relieve tension from muscles, and more.
Wildling's unique gua sha stones are made from Bian stone instead of quartz, like most other gua sha stones. Bian stone is an amalgamate of 40+ minerals known for their healing properties.
Wildling has two lines, Empress for the face and Aura for the body. Each ingredient in Wildling skincare products is intentionally chosen for its unique benefit to the skin and to complement gua sha, lymph drainage, and a youthful glow. They source their ingredients from local farms, global fair trade communities, and sustainably wild foraged plants. Each plant that is used is harvested at peak potency to give you the best results possible.
Some of their popular products include nutrient dense Empress Facial Oil, hydrating, brightening, and detoxifying Empress Tonic face mist, smoothing and healing Aura Body Oil, and hydrating, revitalizing, and toning Aura Activator body serum.
Wildling gua sha stones and tools –
The Aura Stone is designed to tighten, tone, sculpt, and smooth the skin. It also stimulates energy flow, releases tension, and smooths connective tissue in dimpled areas.
The Empress Stone is designed to sculpt and reinvigorate the skin. Each edge of the tool is intentionally architected to enhance the practice of facial gua sha. It releases tension in the muscles of the face, smooths out the fascia, circulates blood and lymph through the tissues, and delivers whole plant actives from Wildlings products into the deeper layers of the skin. The result is deeply hydrated, plump, toned, and sculpted skin with a radiant glow.
The Empress Wand is designed to address muscle tension in the face and jaw. Hardened features, headaches, and neck stiffness are often the result of too much tension. A gentle release restores the flow of qi and soothes the nervous system, enhancing the effects of your gua sha practice.
The Aura Sweeper is a body brushing tool designed to help stimulate lymph flow, boost circulation, and energize the skin. Dry brushing assists in stimulating the circulatory system and resurfacing the skin, which is left feeling soft and supple. A daily brushing ritual helps reduce the appearance of rippled skin by bringing blood flow and qi to the area.
Get 10% off Sitewide at Wildling using coupon MBB10. All orders ship Free – No minimum purchase required!
For the best deals, check out their already discounted gift sets, which are already up to 20% off before coupon.
8