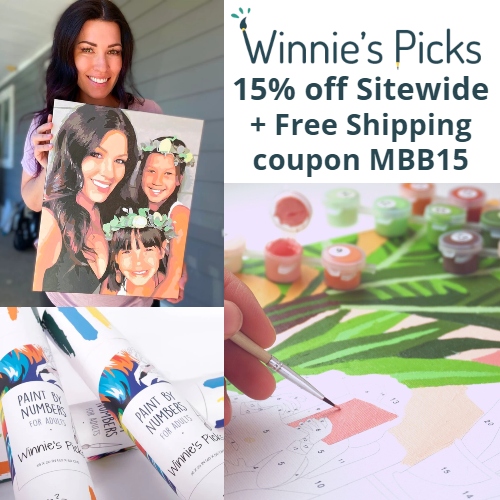 Painting isn't just for kids and artists! Painting is fun for people of all ages and is recognized as a therapeutic activity that is great for relieving stress and calming anxiety. But, for the artistically challenged, it can have the opposite effect. That's where Winnie's Picks comes in!
Winnie's Picks specializes in paint by number kits for adults, allowing you to create something beautiful, no matter your skill level. All you have to do follow the lines and paint inside the defined zone. No special skills or experience needed!
They partner with talented artists across the country to create a beautiful & unique collection of art for you to choose from, including landscapes, animals, flowers, a famous painters collection, and more.
They have easy kits for beginners and, as you get more advanced, they have more challenging paintings for you to move on to. Each kit includes a high-quality linen canvas, an acrylic paint set, 4 brushes, and a complete painting instruction guide.
When you're finished, the paintings make beautiful decorations for your home and great gifts for family & friends who would love something specially made by you!
Looking for something custom? You can turn any photo into a personalized paint by numbers kit. It's a fun & creative way to preserve your favorite memories and they make great personalized gifts. You can choose a traditional kit or a stylish pop art kit that really turns your photo into a work of art.
Want to make it a family activity? Winnie's Picks also offers a selection of paint by number kits for kids ages 7 and up.
Get 15% off Sitewide at Winnie's Picks using coupon MBB15. Shipping is Free on all U.S. orders – No minimum purchase required!
10